The Battle for the next National Championship
See Recruits in Common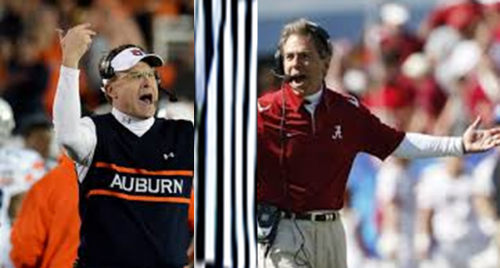 The battle for the top prize in college football begins with recruiting and the final announcements from high school football players making their decision where they will attend college occurs on National Signing Day, which this year is Feb 5.  Four Top recruits are uncommitted and have both Auburn and Alabama on their list they are considering. (Listed on Rivals.com)  Is this important?
In recent years, recruiting has become a year-round endeavor.  Just ask Dan Mullen, head football coach at MS State who said to the AJC last summer, "Currently, we have eight weeks where we're not allowed to do anything with our (current) players. You can do that for coaches with recruiting, too." He wished there was a rule for a hiatus from recruiting.  Dan, like all the coaches, hardest felt in the SEC West, works under the unyielding pressure from competing with the perfectionist, quality freak, lover of coaching and hard work, Nick Saban.
Saban took the National Championship in recruiting prize the past 3 years and is in first place this year.  Look no further than his W/L record to decide how important it is.  While some coaches are wining about Saban's work ethic, Auburn's Jay Jacobs found someone who is up for the challenge in Gus Malzahn.  Coach Malzahn made an astounding turn-around from a 3 – 9 (0 – 8 in the SEC,) 2012 season to winning the 2013 SEC Championship against an excellent Mizzou team in their second year in the SEC.  The 2013 Auburn football season may be the most incredible rise from the ashes any football coach has created in history.  Saban who came to BAMA in 2007 and hasn't stopped home except for a brief visit with Miss Terry and a Little Debbie, is in a marathon.  Malzahn so far has proven he can win a sprint.  How long Coach Malzahn can keep up this pace with the big target that being a top ranked team brings will have to be played out in the 2014 season.  We all can't wait to see it!
Malzahn and Saban, not to our surprise, are managing staffs who are providing stupendous top 10 recruiting classes for both schools.  Of Rivals.com list of Top 100 Recruits, Alabama has 9 verbal commitments and Auburn has 2.
There are 19 students on the Rivals Top 100 list considered uncommitted that have given indications of which schools they favor and have had official visits to many schools.  These undecided recruits are all 4 and 5-star high school players who could have an immediate impact on the school they choose.
So which players are Malzahn and Saban battling over?
There are 4 of the 19 undecided players who have both Alabama and Auburn on their list.  The first and #9 on Rivals.com list is 5-star DB and BAMA legacy (Father Bobby Humphrey,) Marlon Humphrey a 6' 168 lb super star from Hoover High School.  Humphrey had an official visit to BAMA, none to AU, although he has listed interest in attending Auburn University.  Next is Rivals.com #14 Rashaan Evans, a linebaker from Auburn, AL.  Evans is a 5-star recruit, 6'3″ 218, who has visited both programs.   At #15 is Malachi Dupre, WR from River Ridge, LA attending John Curtis High School.  Dupre is a 5- star player, 6'4″ 175, who visited BAMA, but not AU yet.  Rivals #53 Steven Parker  is a 4-star DB from  Jenks, OK, Jenks High School, 6'2″  185, and he visited AU, not BAMA, yet.
There are 4 Super Star players on the Rivals list who have yet to declare and have visited The Capstone.  Those are:
#24 John Smith  DB  Long Beach, CA Poly  5 stars  6'1″  207
#26  Malik McDowell  DE  Southfield, MI  Southfield   5 stars  6'6″ 292
#39 Damien Mama  OL  Bellflower, CA St. John Bosco 4 stars  6'5″  360
#76 Michiah Quick  ATH  Fresno, CA Central East  4 stars  6'0″  170
I've come to the point that I don't get too attached to our new recruits until I see them wearing the uniform in the season opener.  I don't mean to appear to be a cynic, but with the impactful last-minute changes such as Cyrus Kouandjio and T. J. Yeldon who flipped form Auburn to Alabama last year and more recently in the 2014 class, Defensive Back Stephen Roberts from Opelika High School, Opelika, AL, flipped his commitment from Alabama to Auburn after four-star offensive guard Viane Talamaivao, Centennial High School, Corona, CA switched his pledge from the Tide to USC, I reserve my fist-bumps for signing day and sometimes beyond, i.e. Jadeveon Clowney, long after signing day, Feb 14, 2011, who broke my heart on Valentine's Day by choosing USC over Alabama.
We football aficionados, analysts and fanatics love to debate, analyze and read about these new recruits.  How many times have I seen Oxford, AL RB, Rivals #12, 5-Star Racean "Rock" Thomas's Youtube video?  (Too many to mention.)  Of course 4 and 5-star players are not the end-all-be-all for how well a team will perform.  There are many who come in 'starless' and will grow during their college career and outplay those who came into college more highly touted than they.  The Rivals.com star rating is an indication of what we expect to see them do in college, but like they say in the stock market, past performance is no guarantee of future earnings.
In case you want to see it again, here's Auburn's newest Running Back, Racean Thomas:
…