College Football Playoff Selection Committee: Will ESPN Influence the 4-Team Playoff?
For ardent college football fans, it's hard to imagine a world without ESPN. Since its initial launch in 1979, the growth and influence of ESPN is undeniably astounding. They set viewership records and turn around to break those records over and over. They are the best in the business – Number One in Sports Media.  How much influence will it have over the College Football Playoff Selection Committee?
The best sportscasters, the best graphics, the best sports news programming and the best games, they entertain us by bringing us college football news and games like no one else in the business.
Think about 23 Million downloads of the SportsCenter app on its launch last November. That's what I call influence.
Influence alone, not a problem, but when you add an agenda to that, there's a big problem. When the lines are being blurred between broadcasting sporting events and influencing outcomes we start to wonder if there is an agenda here. And with the onset of our inaugural College Football Playoff process, should we be worried about ESPN's influence on the newly formed College Football Playoff Selection Committee?
Should we be worried about ESPN's influence on the newly formed College Football Playoff Selection Committee?
If you never quite understood how the BCS ranking was determined, you're in luck – it's gone. It was based on a formula of human and computer elements and looked like this:
(Harris Poll % + Coaches' Poll % + Computer Poll %)/3 = BCS Ranking
It was one third computer generated, which was actually a compilation of six computer poles and those took into account all sorts of statistics like strength of schedule, wins losses, margin of victory, venue etc.
Outside influence just got magnified.
In place of this highly complex BCS system is a new one, which is the College Football Playoff Committee, and it is simple – 100% human element. All these factors and the opinions of hundreds of people were condensed down to a final vote of a 13-member committee.
We have discussed the question of ESPN's influence on outcomes for years. With the BCS Countdown Show, College Game Day and the overall increased coverage of college football by ESPN, where does sports entertainment end and influencing outcomes begin?
We have suspected an ESPN-influenced tilt in the Coaches Pole, because so many with a vote do not have time to watch all the games. Are they tuning into ESPN to find out which team to vote for that week? I'd bet anything some are.
And what about ESPN's "Heismanology?"
Was your reaction like ours two years ago watching the "Heismanology" analysis right after the BCS Countdown show? When they said, "Coming up next an interview with Baylor QB, Robert Griffin III, (RGIII,) did you also assume they were interviewing the Heisman front-runner, Alabama's Trent Richardson, directly after? They did not.
Not long after the show aired, RGIII was awarded the Heisman Trophy.
Many said that the Heisman voters and entire country were struggling with a new disease called SEC fatigue, and some had a particularly bad strain known as Crimson Tide fatigue. Alabama was ranked number one with a recent SEC title, BCS National Championship, and the previous year's Heisman winner, Mark Ingram. No wonder the rest of the country was sick, but is that any reason for a major network to be a carrier of the virus?
Whichever ESPN exec made the decision to interview RGIII in a long segment with the flavor of an infomercial and not interview Trent Richardson, so close to the Heisman vote, gave ESPN the final influence to hand-pick the 2012 Heisman Trophy winner.
Did they do it again in 2013 with the lack of attention to Alabama's 3-time National Championship QB, A.J. McCarron? At one point in the season, the race looked like a four-man race with Oregon QB Marcus Mariota, Florida State QB Jameis, Winston, Texas A&M QB Johnny Manziel, and Alabama QB AJ McCarron. For a couple weeks when Winston had his legal troubles, Mariota and Manziel dropped a couple games and that left A.J. McCarron. Rather than matriculate A.J. to first place, they scrambled like a dozen eggs to fill in the top four with replacements, like Fresno State QB Derek Carr, Texas A&M WR Mike Evans, Ohio State QB Braxton Miller and Louisville QB Teddy Bridgewater.
At one time, they even tried to sell us Northern Illinois QB Jordan Lynch. I watched him twice, because of their hype around the young man and was underwhelmed. In the final vote, with Winston's legal troubles mostly behind him, he won the award.
That leads us back to the College Football Selection Committee, a 13-member review panel formed last year to rank the top 25 teams, replacing the BCS pole. (The members listed below.) Its members will serve one three-year term and are not compensated, although expenses are reimbursed.
Upon announcement of the committee, the prominent sports media gave them a huge thumbs up on the integrity and experience of the members of the inaugural 13-member selection committee.
Here's a timeline of the selection committee since it was launched last year.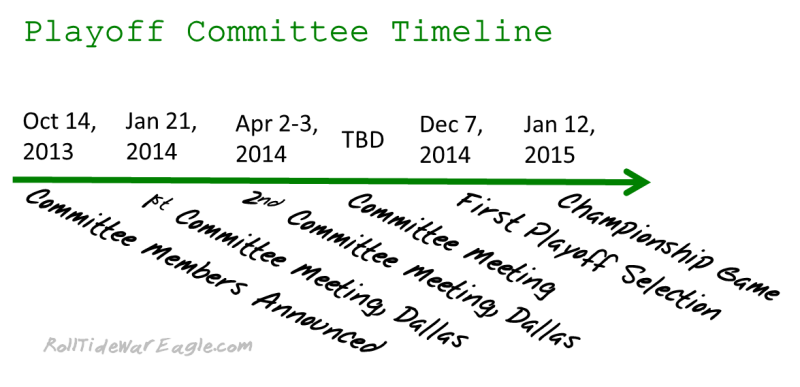 They are going to create a defined structure and set of procedures that will be made available to the public.
Selection committee members will have flexibility to examine whatever data they believe is relevant to inform their decisions. Will that include ESPN College Game Day? They will also review a significant amount of game video. Each committee member will evaluate the data at hand, and then the individuals will come together to make a group decision.
BCS executive director Bill Hancock says the selection committee for the College Football Playoff will try to avoid rematches, but not at the expense of the integrity of the top four seeds. The executive director does not have a vote. The chair, Jeff long, does.
Will ESPN push an agenda to ensure that there are not two SEC teams in the playoff?
Condoleezza Rice, the first member named publically, said in an interview with ESPN, Colin Cowherd, following the announcement,
"I'm going to tell you, strength of schedule is going to matter a lot, head to head is going to matter a lot, and I think this is going to encourage teams to play a tougher schedule."
The Selection Committee Chair, Jeff Long, promises maximum disclosure and transparency. In an interview on the Paul Finebaum Radio Show last month, Long said that they intend to conduct practice sessions in the fall.
Here's a suggestion for CFP Chair Long: Conduct a mock session with the committee using the games played in the 2013 college football season and announce the results of what their selection for the 4-team playoff for the last season would have been. The college football viewing public wants to know.
Committee members will be assigned conferences to provide reports on those conference teams to the full group, but all members are responsible for viewing the film on all the teams. Personal bias or ESPN influence on one committee member could infiltrate the vote of others when they make their conference team report back to the full committee. This report is intended to influence members' votes, thus ESPN will influence members votes.
In a recent blog post, we questioned ESPN's interest and potential destruction of the most influential sports radio talk show, The Paul Finebaum Show. Paul had a tremendous following in Birmingham, Alabama, the heart of the SEC, and throughout the southeast. It was when he arrived on the scene on Satellite Radio that his influence reached further than ESPN executives could stomach. They put a contract on Paul and moved him outside of his market, away from the SEC to Charlotte, NC.
At first we thought that ESPN just wanted to control the man who had the listeners, but now we're wondering if they wanted to somehow change his influence. Little by little you can hear Paul separating himself from Alabama, not just physically, but in the things he says. His heart and interest seem elsewhere. We're staying tuned to see where that is.
Is the ESPN agenda – spread the love, make more money?
ESPN is a business and their agenda is probably money driven or in this case, viewers, readers and listeners to their media outlets which include, TV, Radio, Print and Dot Com. The SEC has dominated college football with a 7-year streak of winning the BCS National Championship and while it also is number one in TV viewers at an average of 3.8MIL it is still only about a third of the 12.5MIL total for all the non-SEC conference viewers. While Alabama has the top spot for average number of views at 6.4MIL, it is a small number compared to the total of all the college football games viewed.
So if the rest of the country would rather have their eyes gouged out than see another SEC Champion or God forbid two SEC teams appear in the College Football Playoff, will ESPN use their influence to make sure that does not happen?
In our judicial system to eliminate outside influence on outcomes, juries are sometimes sequestered and particularly in a capital murder case. There are sports fans, many located in SEC country, who would consider serving on this committee as a bigger task.
When a jury is sequestered, they remove all TVs and radios from the hotel rooms, all newspapers and magazines must be reviewed by deputies before jurors get them, deleting any articles about the case, remove all telephones from their possession and all telephone calls of jurors (if allowed) are to be monitored by a deputy. If jurors have a problem or need to communicate with someone, they must contact the deputy who will ask the judge.
I doubt anyone would serve a three-year term on the College Football Playoff Selection Committeeif they were forbidden from watching ESPN or reading the sports pages. So there will be influence.
At the very least they should not watch the College Football Playoff Countdown Show, which will inevitably replace the ESPN BCS Countdown Show, as well as ESPN's College Game Day and whatever Fox comes up with to copy it.
The new methodology is still yet to be determined, so sports fans stay tuned… The CFP Committee meets again April 2 – 3, and they have a lot left to sort out. When the committee reconvenes in April, looks like there is a lot of work to be accomplished in a relatively short time.

College Football Playoff Selection Committee Members you need to know
Twitter @CFBPlayoff
College Football Playoff Committee Facebook
The members of the inaugural selection committee as announced, Oct 14, 2013
Jeff Long, vice chancellor and director of athletics, University of Arkansas-Fayetteville, Chair
Barry Alvarez, director of athletics, University of Wisconsin-Madison
Lieutenant General Mike Gould, former superintendent of the United States Air Force Academy
Pat Haden, director of athletics, University of Southern California
Tom Jernstedt, former NCAA executive vice president
Oliver Luck, director of athletics, West Virginia University
Archie Manning, former University of Mississippi quarterback and all-pro NFL quarterback
Tom Osborne, former head coach and director of athletics, University of Nebraska-Lincoln
Dan Radakovich, director of athletics, Clemson University
Condoleezza Rice, Stanford University professor, former Stanford provost and former United States Secretary of State
Mike Tranghese, former commissioner of the Big East Conference
Steve Wieberg, former college football reporter, USA Today
Tyrone Willingham, former head coach of three FBS institutions
Share your comments and Follow Us on Twitter and Pinterest.  We're very social.