College Football Playoff Selection Process
Why Being First Isn't Easy
The kick-off of a new era in college football brings a new system through which the two teams that will play in the national championship game will be decided by a four-team playoff and the selection of those teams is 100% dependent on the analysis, opinions and biases of thirteen human beings serving on the inaugural College Football Playoff Selection Committee. (The committee members are listed below.)
If you haven't heard by now, a major pivot to the way college football crowns its national champion occurred last October when the BCS (Bowl Championship Series) was replaced by the CFP (College Football Playoff) Committee.  Sixteen BCS National Champions were raised since the BCS was created in 1998 with the last one being Florida State in 2014.
For the first time the College Football Playoff Selection Committee will rank the top 25 teams, replacing the former BCS poll.  So far the committee has not announced the date for the first poll to be announced.  The four-Team Playoff is to be announced on Dec 7, 2014.  The BCS ranking was determined using a three-part formula which had a human element and a computer component.  The new system is 100% human dependent.  The former system included hundreds of votes from various coaches, media and other polls.
The new number – only thirteen.
If the 80/20 rule (80% of the work is done by 20% of the members,) comes into play on this committee like it does in every committee that ever existed, then the decision could in essence be made by 3 people.  Are you worried?
The College Football Playoff Selection Committee met for the first time in Dallas, Jan 21-22, and the next meeting is slated for April 2-3.  They only have 2 more meetings planned prior to the four-team playoff announcement.
So many processes to write in so little time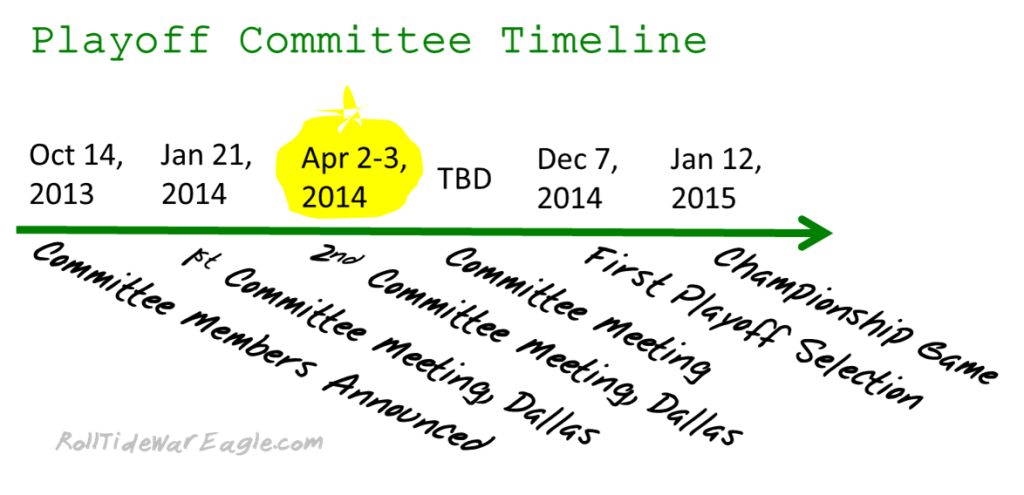 Next Meeting Scheduled, April 2, to Tackle the Processes
That makes the April meeting critical to the success of the new system.  This inaugural committee is tasked with not just grading and ranking teams, but creating complex process for accomplishing the most accurate ranking in college football for the first time.
They aren't just building a house; they are designing the blueprint and clearing the land and pouring a foundation.
They are meeting to create a defined structure and set of procedures to create a process to follow in order to determine the correct ranking of the top 25 teams in college football.  In an interview with ESPN's Paul Finebaum, Jeff Long stated that the committee process will provide "maximum disclosure" and be transparent to the public, but that how they determine what exactly that means to you and me is yet to be decided.  We have some suggestions.
Critical factors for the Playoff Committee to Decide
1. Ranking Criteria
Among the many factors the committee will consider are win-loss record, strength of schedule, head-to-head results, comparison of results against common opponents and conference championships.
Condoleezza Rice, the first member named publically, said in an interview with ESPN, Colin Cowherd, following the announcement,  "I'm going to tell you, strength of schedule is going to matter a lot, head to head is going to matter a lot, and I think this is going to encourage teams to play a tougher schedule,"
The committee will need to identify exact criteria for grading teams and the weight of each criterion via perhaps a weighted numbering system.  They will also need to determine how the grades from various members or subcommittees will be collated into one ranking.
2. Scrutiny Process
The scrutiny process is a detailed examination of the elements or structure of how teams' various performances will be examined and graded as a basis for discussion or interpretation.  How will the data be collected, distributed and analyzed by the committee members?    Each committee member will evaluate the data at hand, and then the individuals will come together to make a group decision.   So what tools, media, film, documents, etc, will they use to evaluate each team?
3. Voting Process
So far the committee has disclosed that they envision that the voting process will include a series of ballots through which the committee members first select a pool of teams to be considered, and then rank those teams. Individual ballots will be compiled into a composite ranking.  The committee must decide on the method, frequency and transparency of the ranking vote.
4. Mock Ranking
Once they have created a process, they need to test it with actual data. We have requested in previous stories on RollTideWarEagle.com that they do a mock selection using the data from the 2013 season and announce publically their results.
Jeff Long, the committee chair, said in an interview on ESPN's Paul Finebaum Radio Show that they intend to conduct practice sessions in the fall.  He fell short of agreeing to publicize the results of the mock ranking.  The college football viewing public wants to know.
5. Transparency
After the committee held their fist meeting Jan 21, there was little news of what was decided and what took place.  Jeff Long  expressed a desire for "transparency," which is the latest in corporate speak for telling the public as much as possible about what you do behind closed doors.  There is nothing that this committee will do that should not be made public.  In other words, their post-meeting press conferences should be like talking to your best friend after a date where the friend says, "Tell me everything and don't leave out any of the juicy details."  We have an article in this three-part series addressing in detail the importance and specifics of what we expect the committee to divulge.  Stay tuned; you'll want to read it.
6. Recusal
Simply put, recusal is backing away from the discussion when you have a known bias either for or against that school.  The Recusal process has two parts, which schools each member will be disallowed from discussing and what parts of the process will they be recused from regarding those specific schools.
The obvious automatic disqualifier is a current place of employment.  Jeff Long, Barry Alvarez, Oliver Luck, Dan Radakovich and Dr Condoleezza Rice are all active at participating NCAA Colleges.  Beyond that, recusal gets sticky and recusal due to bias is impossible.  The College Football Playoff Selection Committee should not waste much time trying to figure it out.  The integrity of the committee members is not in question.  It is the humanness of bias that is a natural part of being a human being.  The most controversial process they have to create is the recusal process.
To say the College Football Playoff Selection Committee has a lot of work to do is like saying there are few football fans in the south.
This story is the first of a three-part series.  Next we go into greater depth why the committee should skip recusal and move onto things they can control.  Come back; you'll want to read it.  You may want to subscribe to the blog to make sure you don't miss out on the next story.
We welcome your comments and invite you to follow us on Twitter @heaubieshebama and on Pinterest.  We are approachable so let's be sociable.

Here's more info…
The College Football Playoff Selection Committee you need to know
Twitter @CFBPlayoff
College Football Selection Committee Web site
College Football Selection Committee Facebook
The members of the inaugural selection committee as announced, Oct 14, 2013:
NOTE: Executive director Bill Hancock, does not have a vote. The chair, Jeff long, does.
Jeff Long, vice chancellor and director of athletics, University of Arkansas-Fayetteville, Chair
Barry Alvarez, director of athletics, University of Wisconsin-Madison
Lieutenant General Mike Gould, former superintendent of the United States Air Force Academy
Pat Haden, director of athletics, University of Southern California
Tom Jernstedt, former NCAA executive vice president
Oliver Luck, director of athletics, West Virginia University
Archie Manning, former University of Mississippi quarterback and all-pro NFL quarterback
Tom Osborne, former head coach and director of athletics, University of Nebraska-Lincoln
Dan Radakovich, director of athletics, Clemson University
Condoleezza Rice, Stanford University professor, former Stanford provost and former United States Secretary of State
Mike Tranghese, former commissioner of the Big East Conference
Steve Wieberg, former college football reporter, USA Today
Tyrone Willingham, former head coach of three FBS institutions
The committee is solely responsible for the rankings and not the playoff games themselves.