Retirement from South Carolina Football
How long South Carolina football Coach Steve Spurrier continues leading the Gamecocks is uncertain, but one sure bet,
The Ol' Ball Coach will do it on his terms.
If Gamecocks fans are listening, he is revealing his plans one jab at a time. Through his continuous sparring, Spurrier gave opinions on everything from the Aggies not playing Texas to how many hours Coach Saban puts into his Alabama team. He is sure to crow about the many "firsts" the South Carolina football teams accomplished on his watch and mentions his defeat of No.1 Alabama in 2010 wherever and whenever he can.
The upcoming year for Spurrier is the big 7-0 birthday along with a tenth anniversary wearing Garnet and Black. Decades are embraced with importance like cornerstones that build lives. There's the big 3-0 birthday, 40th, 60th and so on and tenth wedding anniversaries, which are arbitrary markings of time and often bring pause for reflection of regrets, past accomplishments and future goals.
So, what is on Coach's mind?
Top Three Possible Regrets
Regret Number One – Turning down Mal Moore for the Alabama job in 2007
He didn't want the pressure leading a program already carrying the weight of 12 National Championships and a delusional fan-base expecting the second coming of Coach Paul Bryant. That's why he constantly criticizes the man who was up for it.
According to ESPN's Alex Scarborough in an interview last month.
Spurrier said he told Coach Saban, "Nick, you don't have to stay here until midnight and your teams would be just as good." And what was Saban's response? Spurrier tells it this way; "If I could do it the way you do it, I would, but I don't feel comfortable unless I cover every base." He went on to say, Saban hasn't "maxed out potentially as well as he could."
Coach Nick Saban's record speaks for itself. It takes a certain level of effort to not suck. A little more to be average. Then to be good, you'd have to work a lot but still take time off for Augusta National. To take a great program and turn it into a legacy, it takes the effort Coach Saban puts into it. Luckily for Alabama fans, Saban loves working. For some rare overachievers, work is fun.
Regret Number Two – Turning down Coach Bryant to play at Alabama
History repeats itself. Spurrier didn't want to compete with Joe Nameth either when his father wanted him to play for Coach Bryant. That's Ok, winning a Heisman Trophy as quarterback for the Florida Gators is not too shabby either.
Regret Number Three – Not winning the SEC East in 2013
Coach Spurrier had difficulty managing some of the South Carolina football players.  For example, if Jadeveon Clowney left it on the field (instead of sandbagging his talents for the NFL draft,) like he owed his team and coaches, there was potential for USC to compete in the SEC Championship last year.
Corner Stone Coaching Accomplishments

 Corner Stone Number One – Winning the first SEC Championship in school history.
Coach Spurrier led the Florida Gators to their first SEC Championship in 1993.
Corner Stone Number Two – First National Championship at Florida in 1996
Corner Stone Number Three – Winningest Coach for the Florida Gators
Corner Stones at South Carolina
So many more corner stones required an INFOGRAPHIC, maybe not, but aren't they fun?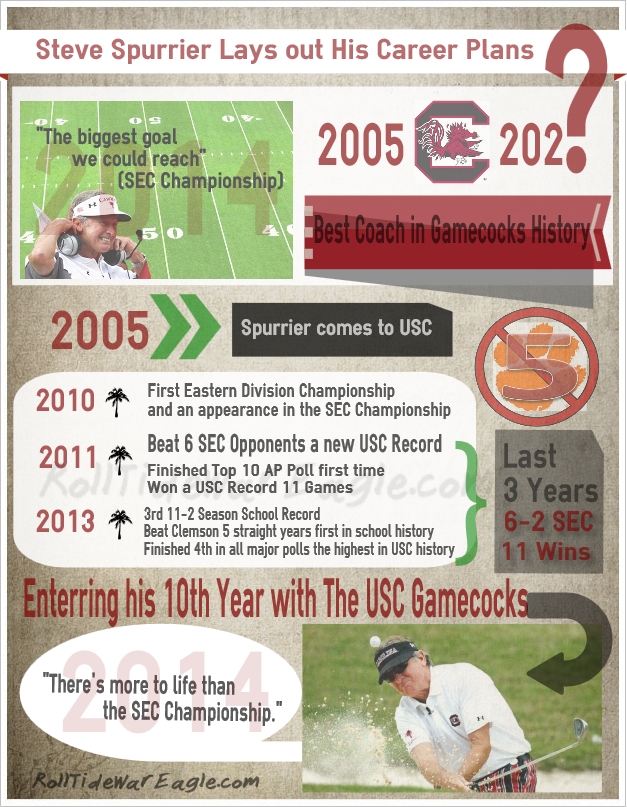 Future Plans and Goals
Goal Number One – Play more golf. Come on, Augusta is beautiful.
Goal Number Two – Winning an SEC title at South Carolina (would be the school's first)
In 2007, he said he wants to do something no one has done before. He has already accomplished numerous firsts for the Gamecocks faithful, still short of the SEC title. While in recent comments he said , "There's more to life than the SEC Championship." He also went on to add, "the biggest goal we could reach."
With ten 4-star recruits Gamecocks recruiting is something to crow about. According to Rivals.com USC has the 3rd highest recruiting class behind Alabama and Texas A&M.  South Carolina football is ranked just ahead of number four Clemson. Winning the SEC East is doable.
Goal Number Three – Gimping out of the USC tunnel "til death do we part."
What keeps Spurrier at USC?
He is driven to accomplish that which has not been done.
His problem is that he already raised a bar beyond the historical high for South Carolina football. If fans expect more, better and greater, they may be disappointed. If they run him off, who will they get? Clemson is going to beat them. Winning the SEC through another re-loaded Alabama team is a ridiculous task requiring miracle plays.
South Carolina football fans listen up. Let him do it his way. That's the only way Ol' Ball Coach stays.