How is Coach Nick Saban Different Than Coach Bryant?
Alabama Football Coach Nick Saban portrays more similarities to the legendary Coach Paul Bryant than he does differences.  Both driven men with unmatched work ethics, track records of winning and amazingly motivating to their players and fans.   Both earned their place in the Alabama's Walk of Champions, so beyond their preferred headwear, how else are they different?
No Alabama player won a Heisman on Coach Bryant's Team.  Running-back, Mark Ingram won the 2009 Heisman Trophy playing for Nick Saban.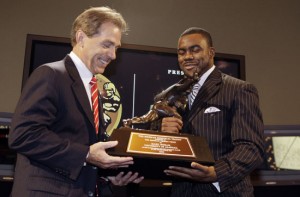 Bryant took ordinary men and got them to do extraordinary things.  Saban starts with the number one recruiting class every year.
Bryant is an alumnus of The University.  Coach Saban is not.
Bryant recruited Forrest Gump.  Coach Saban recruited TJ Yeldon.
Bryant Coached from a Tower and Saban coaches from a 3-point stance.
Bryant liked Golden Flake Potato Chips, Saban likes Little Debbies.
Every mamma in Alabama wanted their son to play for "The Bear."  Coach Saban sometimes has to do the electric slide with their mammas to win them over.
Coach Saban never wrestled a bear, but Coach Bryant never wrestled Mt Cody.
Bryant had the "Junction Boys," Bryant's famous preseason camp at Texas A&M where 100 players were taken to an off-campus training ground to practice on a baron field of stickers and rocks with no water breaks for 10 brutal days of the harshest practices in the most demanding conditions in the history of college football.  Coach Saban's players enjoy a hydrotherapy spa with a waterfall.
Bryant's coaching tree includes coaches, Gene Stallings, Bill Battles, David Cutcliffe and  Pat Dye.  Saban gave us this guy…
Bryant's son has a bank on every corner.  Saban's money can fill a bank on every corner.
Coach Saban gave coaching in the NFL a shot and found out he didn't like it.  Coach Bryant knew he wouldn't like it and did not give coaching in the NFL a shot.
Coach Nick Saban revealed in the media that as a child he was afraid of Santa Clause. As far as anyone knows, Coach Bryant was not.  However, Coach Bryant may have had a phobia of leprechauns.  With an 0 – 4 record against the Fighting Irish, one could have nightmares of them.
For Coach Saban, they are not a problem.
We welcome your comments below and would like to hear your feedback on Twitter.  Subscribe to the newletter and get the latest SEC Football stories and game picks sent straight to you.
How would you answer this question… Would Coach Bryant have let the 2013 Iron Bowl go into overtime?