Alabama Quarterback 2014
Jake or Blake, that is the question
For the first time in three years, Coach Nick Saban is faced with a question of who will be the starting Alabama Quarterback 2014.  At the top of the competition are 4-year Tide veteran, Blake Sims versus the few-weeks-on-campus Florida State graduate transfer, Jake Coker.  The depth chart released this week lists both men as co-starters at QB for the West Virginia game.  Add to the mix a new offensive coordinator, former USC head football coach, Lane Kiffin, and you have quite the puzzle for the West Virginia coach, Dana Holgorsen, to sort out prior to the season opener in the Georgia Dome this Saturday .
Lane Kiffin a new bag of tricks
Are we really to believe that Lane Kiffin brought in transfer Jake Coker to have him hold up signs on the sideline for Blake Sims?  Is Coker more Kiffin's guy?  So would he be pulling for Coker to win the starting job?  Probably not.  Kiffin has his own agenda.  He put his ego aside and took a few steps backwards in order to move his career forward, by taking  the offensive coordinator position at Alabama after previously holding two head coaching positions for the Tennessee Vols and USC in California.  Coach K has the opportunity to rehabilitate his reputation, re-build his resume and learn how to become a head coach under the tutelage of the best head coach in college football.  He will want whichever quarterback will put the team in the best position to win the most games.  The real question is why people assume the Alabama veteran player, Sims, should know Kiffin's system better than newcomer, Coker, when Coach K is putting in new plays that both contenders are learning at the same time.
Not Saban's first time
We've danced to this song before.  In 2011 the quarterback competition was not settled in fall camp and went into the first game against Kent State, where AJ McCarron alternated series with Phillip Sims.  Both men were intercepted twice and McCarron went on to win the starting job and gained two additional National Championship rings for his treasure trove.
Jimbo Fishy  "I'm a Coker Fan."
Which team in the country stands the best chance of preventing back-to-back National Championships for the Jimbo Fisher lead Florida State football team?  Make a short list and it is guaranteed, Alabama is on it.
One of the reasons the media and fans are so high on Jake Coker's ability to lead the Tide is because of the incredible recommendation he received from former Seminole coaches at Florida State.  A couple months ago, speaking about the Alabama team to Bruce Feldman, who at that time was with CBS Sports, Head Coach Jimbo Fisher sold Jake Coker to the Bama fans really hard when he said,
" Including what they've had, he's much more talented than anything they've had. I don't mean to discredit the previous guys, they were all great. But this guy is extremely talented. Arm and mind. He's a backup because he's behind the best quarterback in America. (Coker) may have been one of the top three or four quarterbacks in America physically.  We could have been right there in the same position last year with him, I really believe that. You just had to make a choice.  I'm a Jacob Coker fan."
Similarly glowing remarks and high praises from Florida State QB Coach, Randy Sanders who said of Coker, "I've never had anybody with his size who throws it as well as [Coker is 6'5" 240] does." He went on to say the ball rarely does not "spiral or not go where he wants it to go."
Are Florida State Coaches more motivated to encourage Alabama to have a great quarterback or a bad one?
A source who requested to be unnamed revealed to RollTideWarEagle.com
"Coker battled [Jameis Winston] for the Florida State Start, so Coker's a great QB.  His Achilles heel is he's scared-intimidated- by defense. "
The Sweeter Story
People love stories of delayed gratification, hard work, perseverance and the underdog winning.  Blake Sims has somehow become the hometown boy fending off the carpet bagger new guy, to fulfill his dream he worked so hard for shedding blood, sweat and tears for years while backing up Heisman finalist AJ McCarron.  It's finally his "turn" and he [Sims] is somehow entitled to the starting job, not the newcomer Jake Coker.  Stories were written calling for Sims to start, "Blake Sims stands as one of few quarterbacks that has stood the course."
When asked about his co-starting QB, Sims, who is known by the team to be the type of guy who puts his team first said this, "Coker is a great guy; I like his personality. I'm glad he decided to come here. His spirit is so up.  He can see a guy who's having a down day, talk to him, and make him have a better day."
The sentiment on the team is what it should be, to utilize the talents of every player to put the team in the best position to win the most games.
The Big Secret
There hasn't been this much summertime speculation since the summer of "who shot JR" on the TV drama Dallas.  Assume for a moment Coaches Saban and Kiffin know who their man is, what is their motive for continuing a pseudo-competition for the Alabama Quarterback 2014?
Make it harder for West Virginia to prepare for the season opener not knowing who the Alabama Quarterback 2014 will be.
Use Sims to push Coker or visa versa so that Alabama has a better starter than they would with no competition at the position.
Impress recruits since Coach Saban said it's important for recruiting to show that guys get a chance to play.
Placate strong feelings among fans to give Sims every possible chance to earn the job, because he is the Alabama veteran player, hard-working and stayed loyal to the team while he backed up AJ McCarron all these years.
To ensure there is not concern of racism, since Blake Sims is black and Jake Coker is white.  Not since 1999 has Alabama had a black starting quarterback, Andrew Zow.
Keeping Blake Sims or Jake Coker on the team as the backup since Phillip Ely, Luke Del Rio and a number of other quarterbacks transferred off the team.  Ely was just named starter at Toledo.  Del Rio transferred to Oregon State.  After losing the 2011 starting competition, Phillip Sims transferred to Virginia and then to Winston Salem.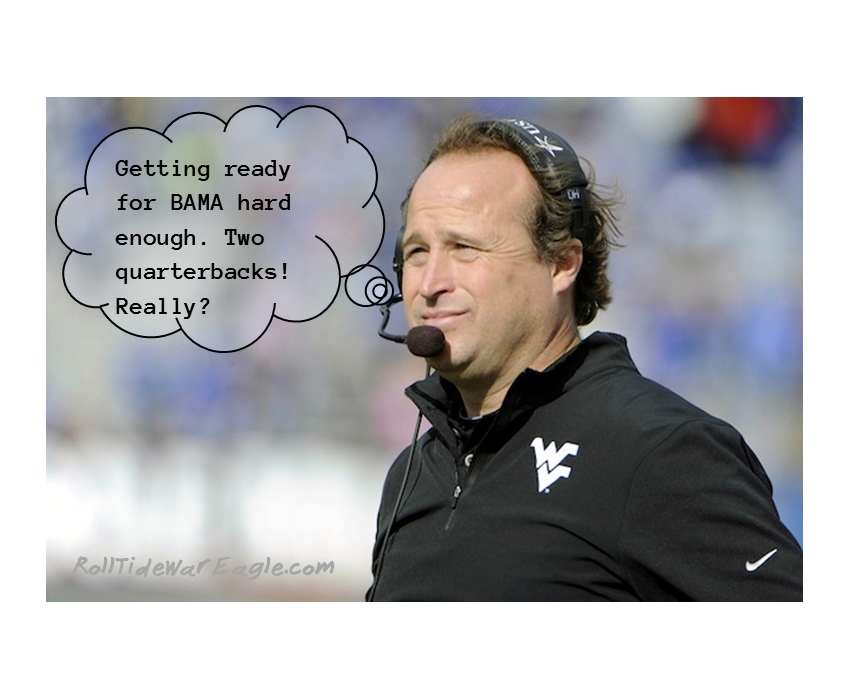 What Crimson Tide Fans Want
According to Alabama fullback, Jalston Fowler, who said in an interview, "Both of those guys are capable of leading us to the national championship."
This is the sentiment of many on the team.  Players and coaches like both of these QB contenders.  In practice, Coach Saban has given them alternating days at the starting position to keep the reps balanced.  The national media must agree, since Alabama is pre-season ranked number 2 in the nation, with no named starting quarterback, what does that say about opinions of this 2014 team?
Winning Championships
Is there an enormous amount of pressure on the Alabama Quarterback 2014, you better believe there is.  The Alabama Game Managing Quarterback will not have to go it alone.  Picture the supporting cast from 5 years of number one recruiting classes, 4 and 5-star athletes dancing into Bryant-Denny single file like a conga line at your cousin's wedding.   The colorful Cuban dance led by tailbacks T.J. Yeldon, Derrick Henry and Kenyan Drake, in line with receivers Amari Cooper and Christion Jones.   And what's it like being the Alabama Quarterback 2014 knowing that to outscore your opponent means 25 points in most games.   Ask former Alabama Quarterback and National Champion Jay Barker what it meant to him to have 7 points spotted each game by David Palmer running one all the way back during punt returns coupled with Copeland and Curry keeping the scores very low.  Jay will tell you it made his job much easier.  David Palmer went on to lead the NFL in punt returns in the 1995 season with the Vikings.
Defense Wins Championships
In the last three National Championships, 2009, 2011 and 2012 Alabama gave up less than 12 points per game with 2011 an amazingly low 8.2 points per game.  Those were great defenses.  Alabama should have a good defense this year, probably one that most coaches would die for, but are they going to be a great defense?  The defense is fraught with injuries throughout the squad including knee injuries of two key players, A'Shawn Robinson, defensive end and Trey DePriest, on the line.  Add to that misery the tall order of replacing super stars like All-American, CJ Mosley and  Vinnie Sunseri, it's not where the Tide faithful nor the coach would like to see the team.
The Bigger Story
While everyone is focused on Blake Vs Jake in the game opener, perhaps there is a more compelling question surrounding Alabama's season opener in the Georgia Dome against West Virginia.  How will this game, win or lose, be held against Alabama in the deliberation to determine the College Football Ranking and the Four-Team Playoff?  West Virginia's Athletic Director, Oliver Luck, also serves on the inaugural Selection Committee for the College Football Playoff.  This week it is certain, at least one of the thirteen members will be watching the Tide.

Your comments are welcome and you are invited to follow us on Twitter and Pinterest.  If you like our stuff, please share it and subscribe to our newsletter to get notices of new content in your e-mail.  Thanks Y'all.