Lane Kiffin Alabama New Offensive Coordinator at the Helm
Where is the ship SS Saban going?
Alabama won their season opener against West Virginia, 33 – 23, but you would have never known it to look at new Alabama offensive coordinator Lane Kiffin at the end of the game.
When the clock ran out Saturday night Kiffin, looked as if he had just traversed the Rocky Mountains, landed a helicopter in Iraq, or completed a 13-game football season, when he actually just beat an unranked team from the Big 12 conference in the season opener in the controlled conditions of the Georgia Dome.  Throughout the game, the Minnesota native, Kiffin looked stressed.  Any why wouldn't he be?  The West Virginia game was his first game coaching at Alabama.  First time coaching as an offensive coordinator since his two head coaching jobs at USC and Tennesee.  First time taking a coaching job without his dad, Monte Kiffin on his staff.  And first time under the pressure of the enormous expectations of Alabama fans and his new boss head football Coach Nick Saban.
How stressful is it to work for Nick Saban? 
Is it more stressful than being an air traffic controller landing 120 planes per hour at Hartsfield?   Would it be easier to fill a tooth in the mouth of a screaming pre-adolescent?  Maybe coaching at Alabama isn't as stressful as driving a taxi in New York City, but Kiffin had a tough night being the new offensive coordinator at Alabama, in his first game with a new quarterback all the while listening in his headset to the furry of Nick Saban following a disappointing season, and it showed on his face at the end of the game.
Does Lane Kiffin feel like he somehow landed in OTS (officers' training school) at the infamous Marine Corp training Compound Parris Island?  He knew the job wouldn't be easy, but could anything prepare him for the level of scrutiny and pressure of being a coach at Alabama?
Is being a coordinator at Alabama a bigger job than being the head coach at USC?
Maybe not, but you must give him credit for putting his ego aside to take an assistance job after leaving a head coaching job at Tennessee and being fired from one at USC.  It takes a big man to be willing to reassess his life and goals and move his family across the country to take what some perceive is a step backward in order to move forward into another head coaching job.
Not so fast, my friend.  Kirby Smart has made a long and well-remunerated career as an Alabama assistant.  Who's to say Coach Kiffin won't do the same?  Perhaps being a coordinator at Alabama, historically the best team in the best conference is a better job than being head coach at USC.
Parris Island, Tuscaloosa
With week one of Parris Island boot camp complete, if Kiffin's appearance at the end of the West Virginia game is any indication, he is enduring tests of mental and physical strength that he never knew existed.  He will come out of this the true, the strong, the Alabama coach.
Was Kiffin a Distraction?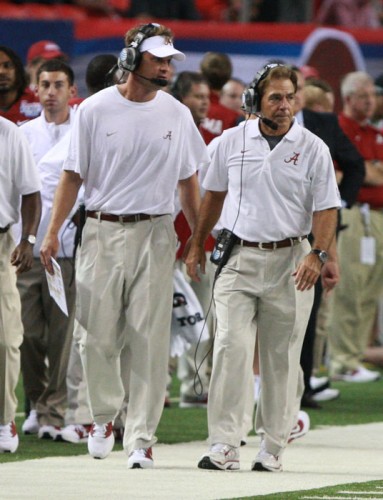 After the game Coach Saban repeatedly said that Kiffin was great and did a great job.  He said all those things, but the body language throughout the game wasn't always saying that.  The two coaches wearing matching khaki pants and white shirts, both with headsets on and Kiffin with his laminated playchart tightly gripped in his white knuckles, chatted it up through the head sets non-stop throughout the game.  Kiffin continuously checked in with Saban face-to-face on the sideline.  ESPN seemed enamored with the pair and broadcasted a split screen of the game in one screen and the two coaches in the other for much of the time.  Coach Saban who normally paces the sideline, hands crossed across his chest, found himself standing in one place more than usual, because Kiffin was either asking him a question, distracting him or actually pacing in the space that Saban normally walks.
Saban has been defensive of his new coordinator, of whom the media finds much to criticize and questions Kiffin for his move from head coach at USC to assistant at Alabama.  Of his 39-year-old coordinator, Saban said, "You make mistakes when the limelight is a little too bright a little too soon."  After the game Coach Saban said "Great! Did a great job.  He's [Kiffin] a really good coach and y'all need to fess up to that."
So how did Coach Kiffin and his new QB do?
We give them a B- with much room to improve.  What do you give them?
Blake Sims, who took all but two snaps, completing 24 of 33, for 250 yards plus 42 rushing and one interception.
TJ Yeldon ran with the ball 23 times for 126 yards, averaging 5.5 yards per carry and two touchdowns.  Derrick Henry gained 113 yards on 17 carries with a TD averaging 6.6 yards per carry. Sims added 42 more yards on the ground.  Alabama outrushed West Virginia, Alabama gaining 288 yards to WVA's 47.
After the game the players were happy to have the win, but know they have a lot of work to do.  In true Alabama fashion, Derrick Henry summed it up when he said, "We're going to keep learning."
For better or worse, the Kiffin ship has set sail.  Kiffin at the helm of the USS Saban left port at Parris Island and is now on a heading straight for a collision with Ellis Island.

If you enjoy our stories, tell a friend, follow us on Twitter and Pinterest and leave your comment.  Your feedback is awesome!
Take a minute to Tweet or e-mail this article to your friends and Twitter Followers.  Thanks Y'all!