Why Playoff Committee Member Pat Haden Should Resign
Thank you, Pat Haden
Thank you Pat Haden. Thank you for proving that intelligence does not equal law-abiding, that integrity does not equal self-control and that a rich, famous, Rhodes Scholar who is well thought of in the media can experience a lapse of discipline.  Thank you for demonstrating for a national television audience and millions of college football fans that no matter how many talking heads remind us of your intelligence and integrity you too are capable of a thoughtless outburst putting a black eye on the newly formed College Football Playoff Selection Committee through which you get better than a 7% vote on the 4-team playoff.
Thank you for proving that no amount of money, power, intelligence or integrity can overcome human bias.
Why Should College Football Fans Care?
College Football fans around the NCAA do care what he did, because Pat Haden is not just the Athletic Director of USC Trojans, but more importantly, he is serving as a member of the inaugural 13-member College Football Playoff Selection Committee. How he conducts himself matters to all involved in NCAA Football.  Last spring we saw death to the BCS.  On Dec 7, 2014 the Playoff Committee will reveal the four teams to play in the 4-team playoff for the first time in college football history.  The National Champion will be crowned in Arlington, Texas out of the teams the Playoff Committee selects.  Every Playoff Committee member must take this job as a serious task and huge honor.  They say they do, but actions speak louder than words.
Back up for a minute… What did Pat Haden do?
To recap what Patrick Capper "Pat" Haden, the athletic director at the University of Southern California and former quarterback for the USC Trojans, did. In Week 2 of College Football, during a defensive struggle between USC Trojans and Stanford and following an official ejection to Southern Cal linebacker Hayes Pullard, Haden jogged down to the field from the press area and was documented on national television arguing with two officials, shaking his head and waving his arms at the refs. During the heated discussion with officials, SC Head Football Coach, Steve Sarkisian had to pull Haden back from the clash with game officials.
It is practically unprecedented for an Athletic Director to challenge football officials about a ruling on the field during a game.  He knew this was a violation of Pac-12 Conference Rules. The game ended with a narrow victory of 13 – 10 for the team and a $25,000 football conference fine for their athletic directors poor judgment.
Pac-12 Admonishment
Larry Scott, Pac-12 Commissioner, issued a strong reprimand,
"The conduct by USC Athletics Director Pat Haden was inappropriate," read the statement. "Such actions by an administrator in attempt to influence the officiating, and ultimately the outcome of a contest, will not be tolerated."
The Fine
Pat Haden is a casual Twitter user. He sends out roughly ten tweets per month, and sent none in July, but since this incident, he has tweeted daily.  He wanted his Twitter "Followers" to know where he was sending his fine and that he was writing a check to an autism charity and that it would support his grandson.  He even went so far as to tweet a photo of his grandson who suffers autism.  Does it appear he is using his grandson's misfortune to rehabilitate his image?  At the very least this is in poor taste.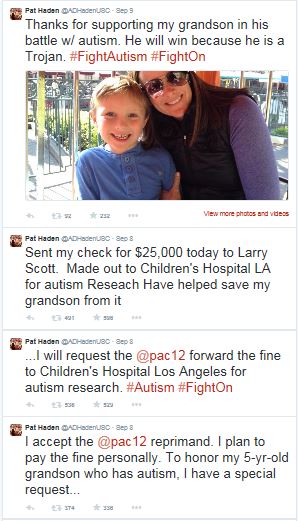 But did the AD of a major conference, the Pack – 12, know that his conference has a policy in place for where such fines are paid?  He did and chose to ignore it just like he ignored their strict policy against Athletic Directors attempting to influence officials during a game.  The Pac – 12 has a Scholarship Fund already established, but are now being portrayed by some as an organization who doesn't support solving childhood diseases, because they told Haden to re-write the check.
Everybody Makes Mistakes
When we get a speeding ticket, we don't tweet out that we just sent a fine in to the City of Hoover for $150 and wrote the check to Spain Park High School to purchase new uniforms for the band. A person who behaves this way is someone who believes the rules don't apply to them and people in "high places," who are more comfortable writing the rules than following them sometimes display this sort of behavior, see Richard M. Scrushy.
This elitist attitude is exactly why we need more transparency on this 13-member selection committee. There is no amount of intelligence or honor that can overcome the emotions of college football.  Do you think Haden wanted this scandal?  Did he wake up that day thinking, I hope SC wins and wouldn't mind being fined $25,000 by the Pack – 12?  Of course he did not want that, but he was unable to control himself.
Playoff Committee Reaction?
He actually got a complete pass from the College Football Playoff Committee, Bill Hancock who said this:
"Emotional outbursts at games are not a matter for the playoff selection committee to deal with. This does not affect Pat Haden's capability as a committee member. We recognize that athletics directors cannot be dispassionate about their own teams, and that's why we have the recusal policy."
Somebody tell Bill Hancock that it's against PAC – 12 rules for an AD to interact with officials during a game.  This is not a fan cheering too loudly, standing through the game and spilling their flask on the guy in front of them, this is an athletic director showing lack of self-control and disregard for the rules as if they just don't apply to him.
Haden issued an apology stating he should not have approached the officials and should have handled it later through proper channels.
Behind Closed Doors
It's like when you catch your teenager making out with her boyfriend in the driveway of your house and you say to your spouse, "what do they do when we can't see them?"  If Haden acts that way in front of millions of people, how will he behave behind the closed secret meetings of the College Football Playoff Committee?
Are we to believe that Pat Haden thinks the rules and guidelines of the Playoff Committee will apply to him also? Only one way to gain trust and that is through transparency.  This committee is more secretive than my Aunt Katherine who won't tell us what she puts in her delicious spaghetti sauce.
Soft Balls from the Media
If you needed a fun drinking game last Saturday, you could have used the words, "intelligent" or "integrity" during the broadcast following Pat Haden's outburst at the game. These adjectives were thrown around as if either has one iota to do with compliance or un-biased.  Haden worked in broadcasting, literally everywhere following his NFL Career, ABC, CBS, Fox and TNT, which may explain why all of these networks are so defensive of him.  Or perhaps they are protecting their access to the SC program.  Geeesh!
More criticism from writers than talkers.
USA Today Sports, Dan Wolken wrote:
"USC athletics director Pat Haden should resign from the College Football Playoff selection committee, and he should do it today. If he refuses, CFP executive director Bill Hancock should nudge him in that direction. And if Hancock doesn't want to go down that road, the 10 commissioners of the Football Bowl Subdivision conferences should intervene and demand a change. "
Cecil Hurt, sports writer for the Tuscaloosa News (@CecilHurt) had this to say:
"The playoff committee is no place for active AD's. It's an issue that's hard for me to deal with because I don't think they should have one."
Vote Haden off the Island
 Transparency =  Trust
The Committee could relieve all the pressure and skepticism by just being honest with the fans. Put TV cameras in all the Playoff Committee meetings.  Are we suggesting total accountability?  Yes, yes we are.  Televise it like C-Span and let everyone watch the deliberations.  Maybe it would be more like Survivor.
Once televised, The College Football Playoff Committee could take a vote on whether Pat Haden should stay or go. Haden's actions are unacceptable for a Committee member and causes us to question the impartiality of the current members of the Playoff Committee as well as the College Football Playoff selection process itself.
Televise the Playoff Committee Member Meetings.
Name One Good Reason: Why Not?

If you enjoyed this article, tell a friend, follow us on Twitter and Pinterest and leave your comment.  Your feedback is awesome!
Take a minute to share this story with your friends via e-mail and to your Facebook Friends and Twitter Followers.  Thanks Y'all!