The Alabama Auburn 2014 Rivalry
What if the Iron Bowl Was Played This Week?
In the state of Alabama, football fans aren't just interested in one team, they are engrossed in two. The Iron Bowl may be played one day of the year, but it is debated, fought over, bragged about and the subject of every office cooler gab session, 365 days per year.  Some Auburn fans may be heard to say, "I cheer for two teams, Auburn and whoever is playing Alabama."  (That door swings both ways.) Many fans cheer for both teams until the big day in November.  Even fans who pull for both teams until the Iron Bowl cannot overcome the urge to constantly critique the other brought on by the number one rivalry in college football, Alabama Auburn 2014.
The Other Team
When Auburn fans watched Alabama Quarterback Blake Sims rush for a touchdown and connect passes to a stellar cast of receivers, they couldn't help but question if they will run, juke and pass like that through the Auburn Defensive line in the Iron Bowl. And as Tide fans watched Robenson Therezie wreaking havoc on Arkansas QB Brandon Allen setting up the interception by Jermaine Whitehead in Auburn's season opener, even Alabama fans wondered if Alabama offensive linemen Alphonse Taylor and friends can hold that Tiger line.  Whether it's Tide's Defensive Back Landon Collins being burned by a pass or Tigers Wide Receiver Melvin Ray dropping them, you can count on this, both fan bases view the other team through Iron Bowl Colored glasses.
Alabama Auburn 2014 Undefeated
Alabama
West Virginia, 33 – 23
Florida Atlantic, 41 – 0
Southern Miss, 52 – 12
Auburn
Arkansas, 45 – 21
San Jose State, 59 – 13
Thursday night at Kansas State
The Iron Bowl in September
Imagine if you will, that the College Football Playoff Committee has things so messed up and conference commissioners so confused that they monkeyed around with schedules so badly and the Iron Bowl is played this week. Where would you put the needle on the Iron Bowl Meter this week?  We looked at eleven criteria to determine where to put the meter needle this week.
How the Defense Looks
Defensive Yards
Alabama Defense gave up an average of 220 passing yards per game and 169 yards rushing over the first three games. Auburn's defense gave up 143 passing and 73 rushing yards per game to their two opponents this year.
Tackles for Loss
Auburn is averaging 7.5 tackles for loss per game to Alabama's 5.33. This stat is a little surprising, especially with Carl Lawson on the sideline due to injury.  Alabama's defense is not yet clicking like those championship defenses did in 2009, 2011 and 2012.
Turnover Margin
Looking at turnover margin: Auburn is sitting at +1 in turnover margin to Alabama's -2.  Each team has turned the ball over three times, but Auburn created four turnovers on defense to Alabama's one, and that is the difference.  Auburn is creating more turnovers on defense.
Penalties
Alabama cost themselves fewer yardage in penalties averaging 44.7 yards per game to Auburn's 58 yards per game. This is a sore spot that can creep up on a team and cost a game down the road.
How the Offenses are Performing
Based on the numbers and eye test, Alabama and Auburn Offenses are off to a good start.  Alabama is more prolific in the passing game and Auburn has the advantage in the running game. Amari Cooper is set to have a superior year whether Sims or Coker is in the game.  He has 16 TD receptions, which puts him two away from the school career record.   Cameron Artis Payne and Corey Grant are filling the void left by Heisman Trophy finalist, Tre Mason, in the Auburn backfield.  The edge on Offense goes to Auburn.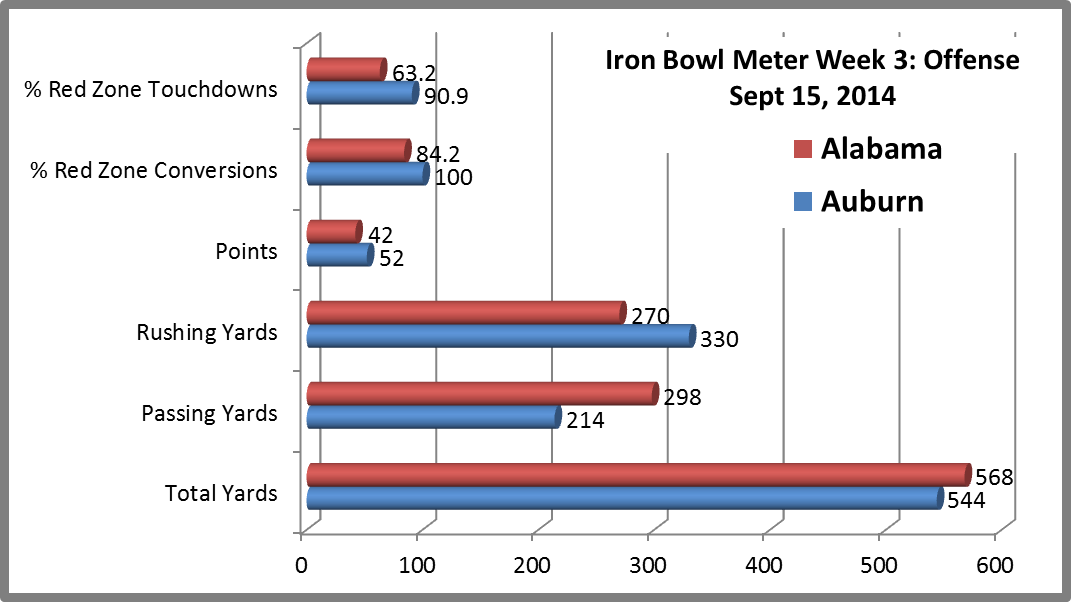 Red Zone Offense
Both teams have been exceptional in red zone offense with Alabama scoring on 84% of their trips inside the red zone and Auburn scored 100% of the time when inside the red zone. Alabama scored touchdowns 63% of the time and field goals 21% of that time.  Auburn scored touchdowns 91% of that time and field goals 9% of that time.  If Alabama fans listen real closely they might hear Coach Saban screaming "FINISH," which was the Coaches mantra when he first arrived at The Capstone.  Of course, we are early in the season and these numbers will change quite a bit, but both Alabama and Auburn 2014 offenses are going to be tough to stop inside the red zone.
Third Down Conversions
Third down conversion percentage is a big strength of Auburn this season, converting 67.86% of their third downs, keeping their offense on the field. Alabama converted 56.41% of their 3rd downs, slightly behind Auburn, possibly due to the fact they have had a wide open QB competition.  But, the ability to pick up third downs in clutch situations is often the difference in winning or losing the game.
How They "Stack Up?"
Alabama only outperformed Auburn in three of the eleven criteria considered.  Things are stacking up in Auburn's favor right now.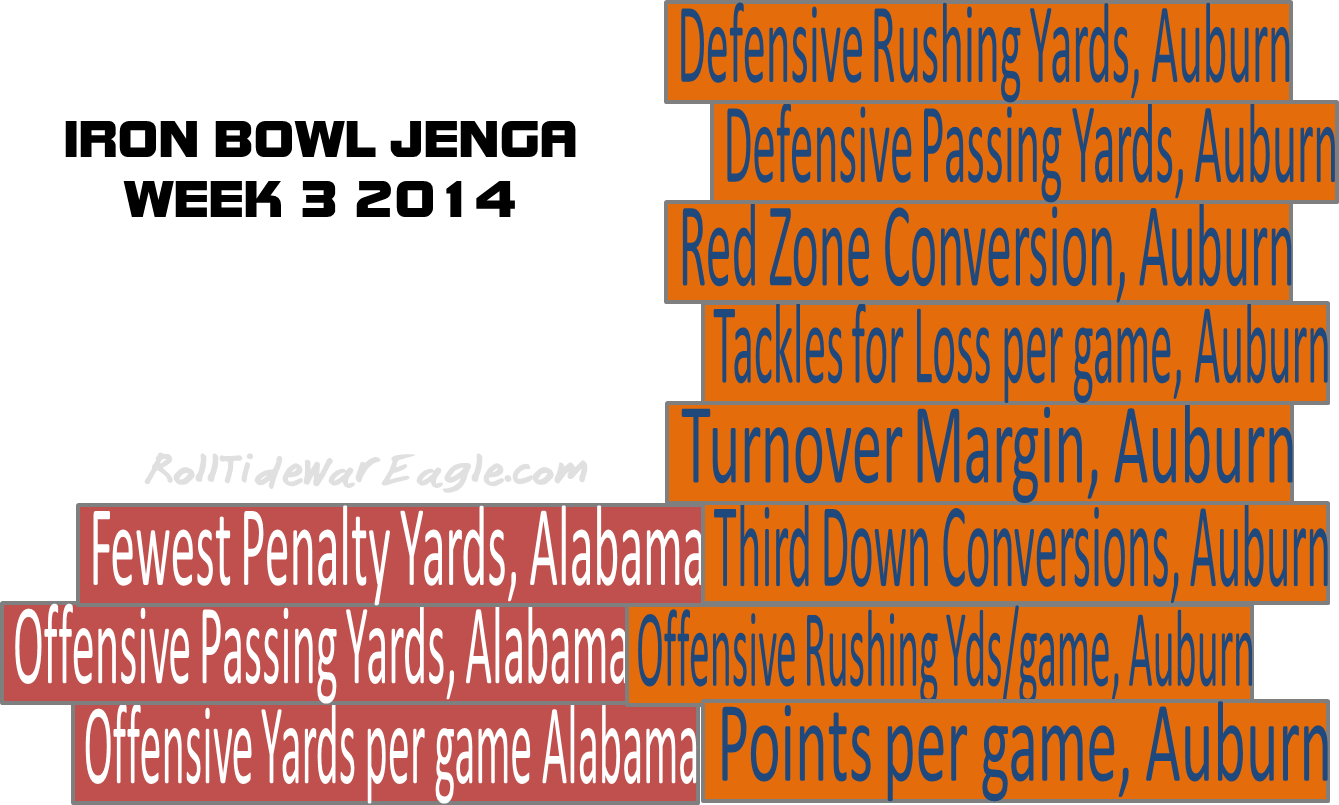 Iron Bowl Meter Week 3 Tilted To Auburn
The Iron Bowl Meter Week 3 is tilted toward Auburn.  Before you start hearing "Duuuuuuuuuuuke" echoing throughout Bryant-Denny in your mind, get real, this is week 3.  Statistics this early in the season are not as meaningful as they will be deeper into the schedule with more SEC West opponents to compare.  Also, Alabama left 7:53 on the clock last week against Florida Atlantic due to weather, which could have inflated their stats even more.  In fact, the only formidable competitors Tide and Tigers faced was Week 1.  Auburn beat an Arkansas team, 45 – 21, that went on to  clobber Nicholls, 73 – 7, and Texas Tech, 49 – 28.  After West Virginia lost to Alabama, 33 – 23, in the Georgia Dome, they went on to beat Towson down, 54 – 0, and Maryland, 40 – 37.  We'll know more about West Virginia when the Sooners come to their house, this Sat, Sept 20, (on Fox.)
Big Differentiator
If you have two quarterbacks, you don't have one good one.
Perhaps the biggest difference between Auburn and Alabama this year is at the Quarterback position. Auburn has arguably the best two QB's in the nation in Nick Marshall and Jeremy Johnson and Coach Malzahn clearly stated that Nick Marshall is the starting QB and he will use Jeremy Johnson in certain situations.  Coach Nick Saban says that there is still a QB competition on his team, even though it appears to the fans that Blake Sims is the guy and it's hard to imagine that is going to change.
Hold onto your shakers, get the car magnets in place, because the Alabama Auburn 2014 season is warmed up properly and we are about to get into the teeth of these schedules. One thing that is certain, on November 29th, the good state of Alabama has their own playoff and it is called The Iron Bowl.  And there is no other rivalry in the world that even comes close to this one.

Follow Alabama Auburn 2014 by checking in every week to see where the Iron Bowl Meter needle goes.  Get updates in your e-mail by subscribing to our newsletter.  It's free!
If you enjoyed this article, tell a friend, follow us on Twitter and Pinterest and leave your comment.  Your feedback is awesome!
Take a minute to share this story with your friends via e-mail and to your Facebook Friends and Twitter Followers.  Thanks Y'all!