Alabama Auburn 2014 Game
Week 4
What if the Iron Bowl Was Played This Week?
Most College Football analysts agree, the winner of the SEC Championship in the Georgia Dome on December 6, will be selected by the College Football Playoff Committee to play in the first four-team college football playoff in history.  Many prognosticators also predict that the winner of the SEC West will be determined in the Alabama Auburn 2014 Game known as the Iron Bowl.  If the Tide and Tigers continue to march on their respective undefeated paths, we are heading to the mother of all Iron Bowls, Part II.
Both fan bases of the Auburn Tigers and Crimson Tide aren't just interested in one team, they are engrossed in two.  Since both teams are good candidates for the CFBPlayoffs, The Iron Bowl may have national prominence, again.  When you move to Alabama, before you can get a mortgage or a driver's license, you must choose to pull for Alabama or Auburn.  The power company won't even turn on the lights until they know if you are Roll Tide or War Eagle.  This mania could catch on throughout the rest of the country as we get closer to the playoffs.
The "Other" Team
Each fan base was able to give the others' team their undivided attention this week, as Auburn played in a raucous Bill Snyder Family Stadium against number 20 K-State on Thursday night and the Tide hosted the Florida Gators in a bright sunny Bryant-Denny Stadium.
Auburn narrowly won on the road Thursday night, surviving K-State 20 – 14.  Defense was the story for Auburn's win after the Wildcats found the secret sauce for shutting down Auburn's running game.  Auburn's defense grabbed two interceptions and recovered a fumble.  K-State's mistakes and Auburn's ability to capitalize on them was the difference in bringing home a victory for the Tigers.
When Auburn fans who just got over the late night nail-biter Thursday, settled in Saturday to watch Alabama play, before they could plunge the first chip into the salsa, Bama Quarterback Blake Sims hit a perfect pass to Kenyan Drake for an 87 yard touchdown on the first down.  They watched Alabama rack up 645 yards on offense and break all sorts of school records.  They may have received some consolation by the sloppy win, eleven penalties and four turnovers.  But when Tiger fans heard Gary Danielson announce the final play count for the Tide's offense was 87 plays, did they think Gus must be moonlighting in Tuscaloosa?   
Are Auburn fans worried and Alabama fans overconfident?  Is it September?  Business as usual in the State of Alabama.
Alabama Auburn 2014 Game – Undefeated
Alabama
West Virginia, 33 – 23
Florida Atlantic, 41 – 0
Southern Miss, 52 – 12
Florida Gators 42 – 21
Next Up Ole Miss Oct 4,
Auburn
Arkansas, 45 – 21
San Jose State, 59 – 13
at Kansas State 20 – 14
Next Up Louisiana Tech (HC) Sept 27,
The Iron Bowl in September
Imagine if you will, that the College Football Playoff Committee has things so messed up and conference commissioners so confused that they monkeyed around with schedules so badly and the Iron Bowl is played this week. Where would you put the needle on the Iron Bowl Meter this week?  We looked at eleven criteria to determine where to put the meter needle this week.
How the Defense Looks
Defensive Yards
Last week Auburn had the edge over Alabama holding its opponents to fewer defensive yards than Alabama in both passing and rushing.
Over four games, the Alabama Defense gave up an average of 188.3 passing yards per game and that is down 1.7 yards from last week.  Auburn's defense gave up an average of 224.7 passing yards per game and that's up from a much lower average 143 last week.  This stat flipped from Auburn's advantage in Week 3 to Alabama's edge in Week 4.
Alabama is holding their opponents to 62 yards rushing over the first four games, which is a lower average than last week. Auburn's defense gave up more rushing yards than they did in our report last week, increasing from 73 rushing yards per game on average to 86.   The rushing defense advantage also moved from Auburn to Alabama this week.
Tackles for Loss
Auburn is averaging 7.0 tackles for loss per game, a little lower than last week.  Alabama's is 5.00, also down a bit from our previous report.      The edge stays with Auburn.
Turnover Margin
Turnovers are a big part of the Alabama Auburn 2014 Game Week.  Alabama went into the Florida Gators game with zero interceptions on the three-game season and intercepted Florida Quarterback Jeff Driskel twice and recovered a fumble.  On the other side of the ball, Alabama Quarterback Blake Sims threw an interception and the team fumbled the ball three times.  Until the K-State game, Auburn had zero interceptions thrown on the two-game season, but Nick Marshall threw one last Thursday in Kansas.  The Auburn defense effectively forces turnovers and has six on their three-game season, including two plus a fumble recovery in the K-State game.
Looking at turnover margin: Auburn is sitting at +1 in turnover margin per game to Alabama's -0.75.

Junior DB Jonathon Jones #3 intercepting a K-State TD Pass.
Penalties
Alabama cost themselves 80 penalty yards spread across 11 penalties in the Florida game, which brings the season average up from 44.7 average yards per game last week to 54.  Auburn improved, decreasing their average penalty yards from 58 yards per game to 54.  Yep, Alabama and Auburn are tied on the season for average yards per game.
How the Offenses are Performing
The Alabama Auburn 2014 Game is shaping up to be a beast this year.  Alabama put a record 645 yards on the Florida Gators last week, the most in Florida history.  Alabama is more prolific in the passing game with 335 yards per game over Auburn's 219.  The Tide's wide receiver Amari Cooper is breaking school records whether Sims or Coker is in the game and is the number one wide receiver in the nation for number of catches, 43 and number of yards 655.  Auburn has a slight edge over Alabama in the running game averaging 262 yards per game to Alabama's 251, but Alabama is overall racking up more total yardage than Auburn.  Alabama has more points per game on average with one more point per game. Yes, one point, almost tied in that category too.  The big difference is red zone offense where Auburn is perfect.  The edge on Offense is too close to call.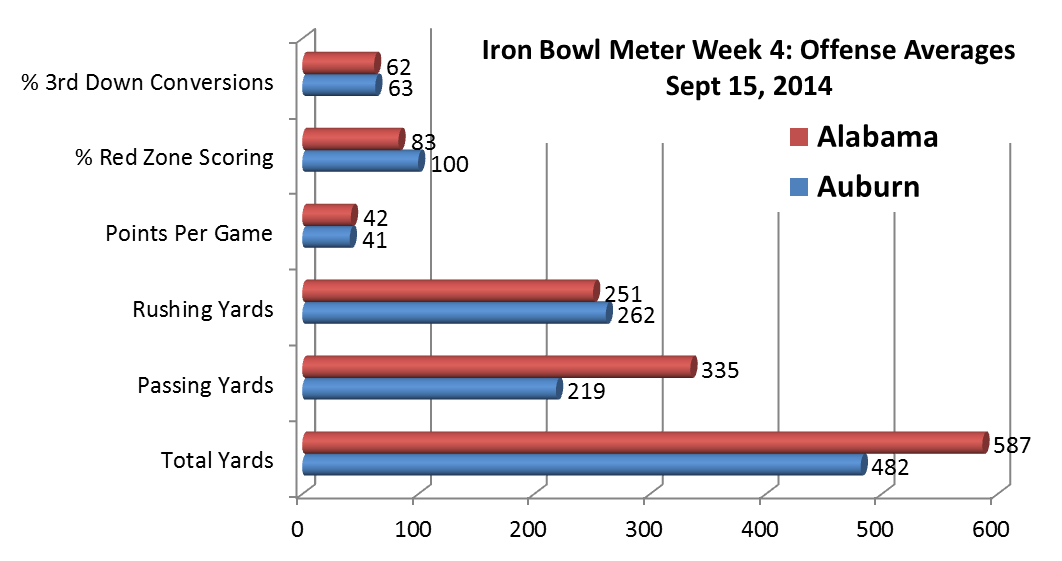 Red Zone Offense
Auburn is perfect in Red Zone Offense and over three games they scored 100% of the time they were in the Red Zone.
Alabama is scoring on 83% of their trips inside the Red Zone.  In the Alabama and Auburn 2014 Game both offenses are going to be tough to stop inside the red zone.
Third Down Conversions
The third down conversion percentage for Auburn dropped only slightly after the K-State game from 67.9% last week to 63.0% this week.  Alabama converted 61.8% up from 56.4% of their 3rd downs, still slightly behind Auburn.
How They "Stack Up?"
Alabama Auburn 2014 Game may go into overtime if it were played this week.  In the eleven criteria considered, Alabama held the advantage in five and Auburn edged out Bama on five.  They tied in penalty yards per game, so they are stacking up nearly the same right now.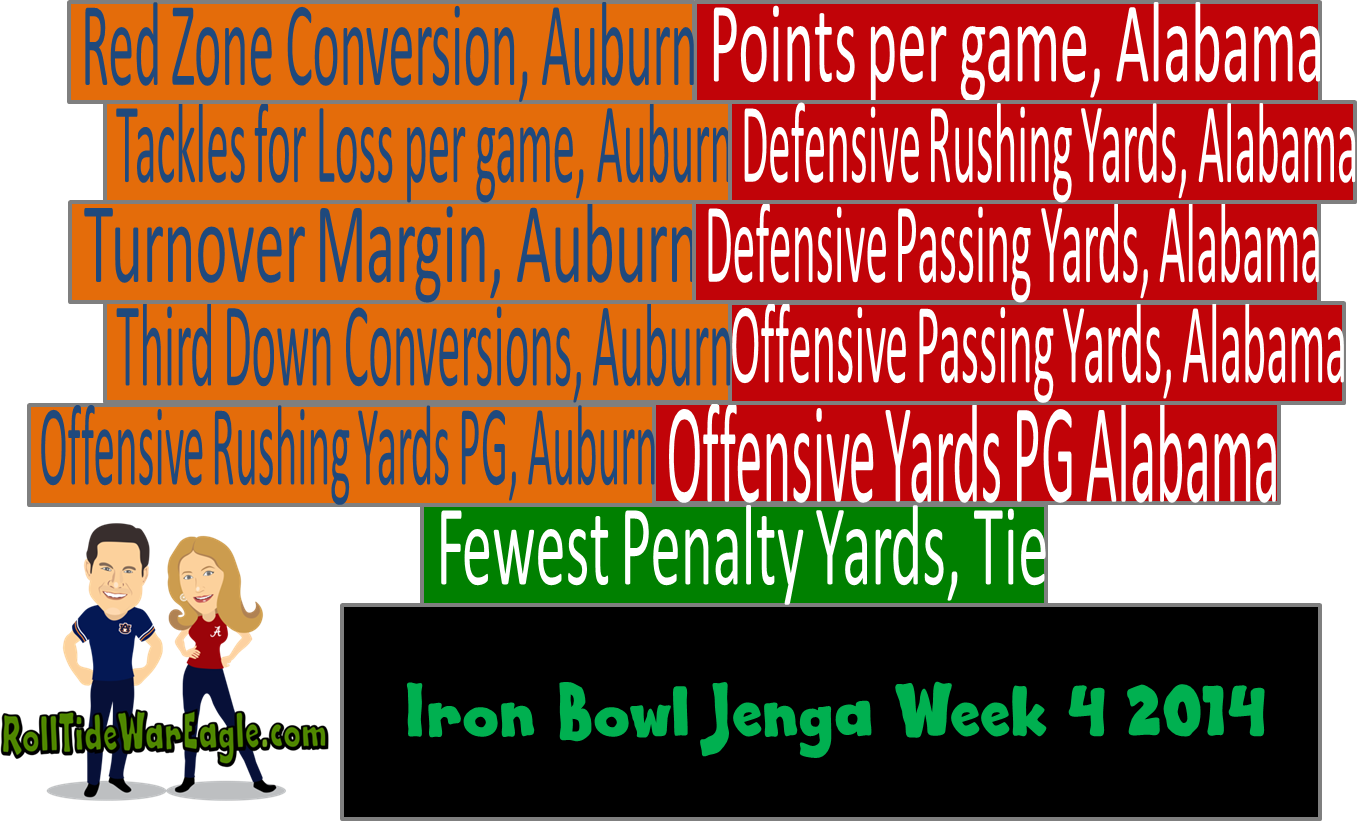 Iron Bowl Meter Week 4
The Iron Bowl Meter is Straight Up, Too Close to Call
Last week we reported that the Iron Bowl Meter Week 3 was tilted toward Auburn.  This week the needle is straight up, it is too close to call.  In week 4 we still have only seen one SEC West opponent played by Alabama or Auburn and that was Arkansas beat by Auburn, and one SEC East opponent, Florida, beat by Alabama.  Auburn beat an Arkansas team, 45 – 21, that went on to  clobber Nicholls, 73 – 7, Texas Tech, 49 – 28 and Northern Illinois, 54 – 14.  Auburn beat Big 12 Conference K-State who had two wins prior to their Auburn matchup.  Wildcats barely escaped Iowa State 32 – 28, who after being beat by K-State went on to beat their in-state rival Iowa, 20 – 17, but they lost to North Dakota State 34 – 14.  It appears that the men in purple are not that good this year.  How did Iowa State put 8 more points on K-State than Auburn scored?  After West Virginia lost to Alabama, 33 – 23, they went on to beat Towson down, 54 – 0, Maryland, 40 – 37 and then lost to the Sooners 45 – 33.  So West VA scored the same number of points on Bama that they did on Sooners.
Although there's not enough evidence to declare that Alabama and Auburn have great teams, there is enough to say they do not have bad teams and either team could go all the way.
Big Differentiator
Alabama turnovers.
Perhaps the biggest difference between Auburn and Alabama this week is that this Alabama team is not as fundamentally sound as we've seen in previous years and Auburn is playing pretty neat games. Bama racked up 11 penalties in the Florida game and turned the ball over 4 times.  Pretty sloppy.  Auburn is capitalizing on the other guy's mistakes and scoring 100% in the red zone.  That's Beast Mode.
Hold onto your shakers, get the car magnets in place, because the Alabama Auburn 2014 Game is approaching one week at a time.  The season is getting interesting with a little more conference play.  One thing that is certain, on November 29th, the good state of Alabama has their own playoff and it is called The Iron Bowl.  And there is no other rivalry in the world that even comes close to this one.

Follow Alabama Auburn 2014 by checking in every week to see where the Iron Bowl Meter needle goes.  Get updates in your e-mail by subscribing to our newsletter.  It's free!
If you enjoyed this article, tell a friend, follow us on Twitter and Pinterest and leave your comment.  Your feedback is awesome!
Take a minute to share this story with your friends via e-mail and to your Facebook Friends and Twitter Followers.  Thanks Y'all!