Alabama Auburn Rivalry
Mushrooming Across the Country
For the first time in college football history, the right to compete in the national championship game will be determined by a four-team playoff bracket scribed by teams selected by the 13-member (now 12) College Football Playoff Selection Committee. Also for the first time in college football history, the path to that glory goes through the Egg Bowl, the in-state rivalry in Mississippi. Since the winner of the SEC Championship in the Georgia Dome on December 6, will likely be selected by the Playoff Committee to play in the four-team playoff, the winner of the SEC West will likely be crowned by winning either the Egg Bowl or the Alabama Auburn Rivalry Iron Bowl then advance to the playoff.
Ole Miss tumbled in the AP Poll after a 10 – 7 loss to LSU in Death Valley, cracking the door back open for Alabama to win the West. Alabama still does not control its own destiny, because it needs Ole Miss to take one more loss.
With one loss to MS State, Auburn needs State to lose two games to earn the SEC West and return to Atlanta for the second year in a row and an opportunity to win its second SEC Championship in two years. If the Tide and Tigers continue to march on their respective one-loss paths, we are heading to the mother of all Iron Bowls, Part II.
The Iron Bowl the First Week of November
Alabama Auburn Rivalry
Imagine if you will, that the College Football Playoff Committee has things so messed up and conference commissioners so confused that they monkeyed around with schedules so badly and the Iron Bowl is played this week. Where would you put the needle on the Iron Bowl Meter this week?  We looked at eleven criteria to determine where to put the meter needle this week.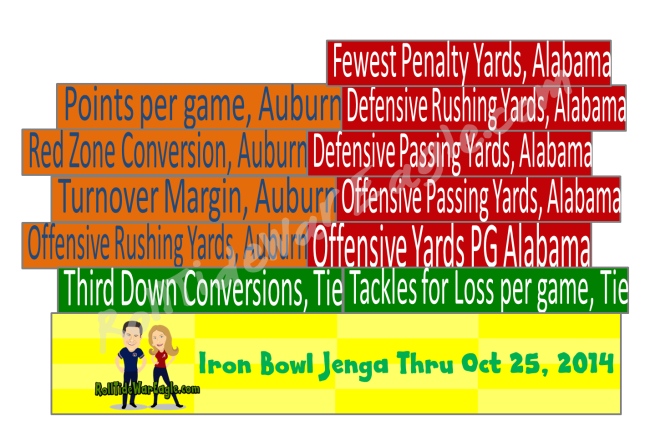 How the Defense Looks
Defensive Yards
A defensive powerhouse, Alabama is more productive on defense than any team in the Southeastern Conference. Alabama holds their opponents to an average of 78 yards per game compared to Auburn's 120 yards. Through the air Alabama is also stingy allowing opponents to pass an average of 199 yards per game and Auburn is giving up 242 yards. Auburn's Defense is ninth in the SEC.
Tackles for Loss
Alabama gained ground on Auburn throughout October on tackles for loss and are now just slightly ahead of Auburn. Alabama 6.75 TFL, compared to Auburn's 6.57 TFL. Effectively a tie, but if Auburn doesn't pick up steam on this stat through November, Alabama is on pace to take this stat to the Iron Bowl.
Turnover Margin
Uncharacteristically for a Saban coached team, the Tide has been plagued with turnovers this season and is -2 for the year. Auburn is fourth in the SEC in turnover margin with +6. There's no question that turnovers can determine the outcome of the game. If Alabama turns the ball over in the Iron Bowl it could mean victory for Auburn.
Penalties
Alabama played their last two games against Texas A&M and Tennessee nearly perfectly in this category. Auburn was plagued by penalties the last couple games against MS State and South Carolina, which could have contributed to the loss to State and the narrow victory over the Gamecocks. Alabama leads this category at 43.3 ypg in penalties and Auburn at 57.4 ypg in penalties. Give Alabama the nod and if they continue to have clean penalty-free games, it makes them that much more dangerous each week including The Iron Bowl.
Will the Iron Bowl Come Down to a Field Goal?
Offenses of the Alabama Auburn Rivalry
Can you imagine, only 12 yards per game separate The Tide and Tigers in offensive production? Alabama has the slight edge, 508.9 ypg and Auburn 496.9 ypg. Auburn has the edge rushing and Alabama in passing. Auburn rushes for 281 ypg to Alabama's 219 ypg. Alabama passes for 290.3 ypg to Auburn's 215.9 ypg.
Edge for point production goes to Auburn with the margin of a field goal. Auburn scores an average of 39.3 points per game to Alabama's 36.5 points per game. Will the Iron Bowl come down to a field goal?
Red Zone Offense
In the Alabama Auburn rivalry game both offenses are going to be tough to stop inside the red zone. Auburn is nearly perfect in Red Zone Offense scoring 93.55% of the time they were in the Red Zone.
Alabama scores on 85.29% of their trips inside the Red Zone.
Auburn has the edge in the Iron Bowl meter in this category, but how will Auburn's red zone offense survive the landshark defense of Ole Miss this week? The Mississippi overall defense is second in the SEC behind Alabama and will be the soundest defense Auburn has confronted so far this year.
Third Down Conversions
The third down conversion percentage for Auburn and Alabama has dropped a little for both schools as they have begun to make their way through the SEC West playoff gauntlet.  Alabama converted 55.17% of their 3rd downs, still ever so slightly behind Auburn's 55.79% conversion of 3rd downs. This stat is just too close to call at this point. Effectively tied.
How They "Stack Up?"
The two teams are effectively tied in two of our categories this week and Alabama wins five categories and Auburn wins four. Sounds like a hold-your-breath type game won by a field goal in the final seconds.
Iron Bowl Meter Points to Alabama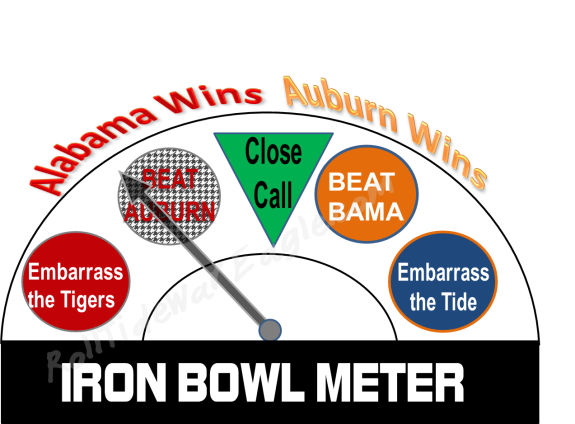 Giving them the eyeball test, Alabama improved in October and it shows in the stats too. They won The Iron Bowl Meter this week. Moving into November, if Alabama continues to improve, Auburn is going to have another battle on November 29th in Bryant Denny Stadium. Alabama is playing very sound on the defensive side of the ball, where Auburn struggled in their last game against South Carolina, on the defensive side of the ball. But before Alabama fans book their hotel rooms in Atlanta, consider Auburn's offense. You thought Steve Spurrier's play calling in the Auburn game was wild, converting 5 of 6 fourth downs and surprising Auburn with a 3rd quarter on-side kick to steel an extra possession—-you haven't witnessed anything yet. Coach Gus Malzahn will throw more wrinkles into the Iron Bowl than on the face of a Shar Pei puppy.
With the Tide and Tigers ranked high again this year, the obsession with the Alabama Auburn Rivalry, a way of life in Alabama, is mushrooming to the rest of the country. Every football fan in the country will watch the Iron Bowl 2014 to see the ultimate playoff elimination game.
Alabama (7 – 1)
West Virginia, 33 – 23 W
Florida Atlantic, 41 – 0 W
Southern Miss, 52 – 12 W
Florida Gators, 42 – 21 W
Ole Miss, 17 – 23 Loss
Arkansas, 14 – 13 W
Texas A&M, 59 – 0 W
Tennessee, 34 – 20 W
Nov 8 at LSU
Nov 15 Mississippi State
Nov 22 Western Carolina
Nov 29 Auburn
Auburn (6 – 1)
Arkansas, 45 – 21 W
San Jose State, 59 – 13 W
at Kansas State 20 – 14 W
Louisiana Tech 45 – 17 W
LSU, 41 – 7 W
MS State, 23 – 38 Loss
South Carolina, 42 – 35 W
Nov 1 at Ole Miss
Nov 8 Texas A&M
Nov 15 at Georgia
Nov 22 Samford
Nov 29 at Alabama

Follow Alabama Auburn Rivalry 2014 by checking in every week to see where the Iron Bowl Meter needle goes.  Get updates in your e-mail by subscribing to our newsletter.  It's free!
If you enjoyed this article, tell a friend, follow us on Twitter and Pinterest and leave your comment.  Your feedback is awesome!
Take a minute to share this story with your friends via e-mail and to your Facebook Friends and Twitter Followers.  Thanks Y'all!