Alabama Auburn Game 2014
Three More Meters Before We Throw Them Out
It's often said when it comes to predicting outcomes of college football rivalry games, you can throw out the statistics of the season leading up to the big game day.  Both head coaches have the game "circled," both teams' players spend more time viewing film and practices are approached with a greater intensity with more purpose.  The emotion of a big rivalry game in college football is best described as indescribable – you have to experience it to understand it.  If you don't believe that the outcome of rivalry games can fly in the face of statistics just ask any devastated Athens dweller.  Last Saturday the Florida Gators crashed the party arriving with a 3 – 3 win/loss record and ran all over the eleventh-ranked one-loss Bulldogs and came away with a shocking 38 – 20 victory.  When it comes to college football rivalries, there's none bigger than The Iron Bowl.  Before we are ready to throw out the stats and start brining the Thanksgiving turkey, we'll take three more looks at the Alabama Auburn Game 2014 and give you three more Iron Bowl Meters based on how the teams stats stack up to each other.
How the Defenses Look
Defensive Yards
Alabama suffocates their opponent's rushing game, number one rushing defensive team in the Southeastern Conference and number two nationally. Alabama holds their opponents to an average of 78 yards per game compared to Auburn's 124 yards.  Through the air Alabama is also stingy allowing opponents to pass an average of 199 yards per game and Auburn is giving up 254 yards. Auburn's Defense has slid from ninth to tenth in the SEC in the last week.
Tackles for Loss
Auburn is now leading Alabama in this category by a slight margin. Alabama's 6.75 TFL, compared to Auburn's 7.0 TFL. Auburn gained some ground on this statistic in the Ole Miss Game with 10 tackles for loss tying their season high for a single game in 2014. They also had 10 TFL against San Jose State.
Turnover Margin
Losing the turnover margin can mean losing the game.  It takes away a possession, keeps your defense on the field longer and gives the other team an additional shot at scoring.  Uncharacteristically for a Saban coached team, the Tide has been plagued with turnovers this season and is -2 for the year, eleventh in the SEC and eighty-fourth nationally. Auburn is fourth in the SEC in turnover margin with +7 and twenty-second nationally.  If  Alabama turns the ball over in the Iron Bowl it could mean victory for Auburn.
Penalties
Alabama played their last two games against Texas A&M and Tennessee nearly perfectly in this category. Auburn was plagued by penalties the last three games against MS State, South Carolina, and Ole Miss. These penaties probably contributed to the loss to State and the narrow victory over the Gamecocks and Ole Miss. Alabama leads this category at 43.3 ypg in penalties and Auburn at 68.4 ypg in penalties. Auburn had 13 penalties for 145 yards against Ole Miss on Nov 1.  Nationally, Alabama is 27th in penalty yards per game and Auburn is 110th.  Not a proud ranking for either program, but if Auburn can't clean this up, it could spell disaster for Auburn in Bryant Denny Stadium on Nov. 29th.
…
Offenses of the Alabama Auburn Game 2014
Only 10.8 yards per game separate The Tide and Tigers in offensive production.  Alabama has the slight edge, 508.9 ypg and Auburn 498.1 ypg. Auburn has the edge rushing and Alabama in passing. Auburn rushes for 278 ypg to Alabama's 219 ypg. Alabama passes for 290.3 ypg to Auburn's 220.6 ypg.
Edge for point production goes to Auburn with a margin of 2.3 points per game. Auburn scores an average of 38.8 points per game to Alabama's 36.5 points per game. Will the Iron Bowl come down to a field goal? Or a Safety? Or maybe a blocked extra point?
Red Zone Offense
In the Alabama Auburn game 2014 both offenses are going to be tough to stop inside the red zone. Auburn's Offense dominates in Red Zone scoring 91.67% of the time they were in the Red Zone.  Alabama scores on 85.29% of their trips inside the Red Zone.  Auburn has the edge in the Iron Bowl meter in this category
Third Down Conversions
Alabama Auburn game 2014 might be full of third down conversions.  Both ranked high nationally, Alabama number two and Auburn three.  The third down conversion percentage for Auburn and Alabama is extremely narrow with Alabama converting 55.17% of their 3rd downs and Auburn converting 54.63%. Effectively tied.
How They "Stack Up?"
Of the eleven stats considered, the two teams are tied in one of our categories, Alabama wins five categories and Auburn wins five categories. Could this Iron Bowl possibly eclipse the drama of last years? The statistics certainly point to an Alabama Auburn Game 2014 of two top teams.
Iron Bowl Meter too Close to Call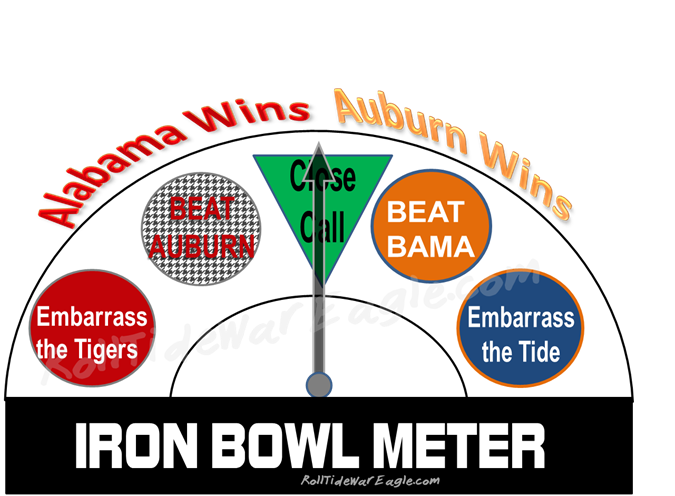 …
As Alabama Auburn Game 2014 draws nearer every day, you can actually feel the increased tension in the air between The Tide and Tiger fans obsessed with the Iron Bowl coming to life, November 29, in Bryant Denny Stadium.  (Or maybe that's just our house divided.)  The anticipation for this game and what the outcome means for these two fan bases in our state is actually beyond comprehension, unless you are an Auburn or Alabama fan and actually live in the state of Alabama and live this rivalry 365 days a year.  With the first playoff in college football history determining who will play for a National Championship, if both teams remain in the hunt by game day, the Iron Bowl will be another thriller.

Follow Alabama Auburn Game 2014 and the college football playoff and get updates in your e-mail by subscribing to our newsletter.  It's free!
If you enjoyed this article, tell a friend, follow us on Twitter and Pinterest and leave your comment.  Your feedback is awesome!
Take a minute to share this story with your friends via e-mail and to your Facebook Friends and Twitter Followers.  Thanks Y'all!