Alabama Auburn Rivalry Stats, Before It's Time to Throw Them Out
You've heard this before, when it comes to rivalry games, you can throw out the stats. Predicting outcomes of college football games is hard to do, but predicting rivalry games, well, they're nearly unpredictable.
Why?
Emotion.
These teams are normally located close to each other, often the same state, players and fan-bases have a history and they know each other. Both teams practice with greater intensity, personal goals and a few vendettas. Normally played later in the season if not the last game, so by the time the rivalry games are played some things may have changed. New players are no longer "young," the list of injuries and banged up teammates is long and some are kicked off the team for various wrong-doings. Coaches have more time to prepare for the rivalry games and more "common marker" games film to watch for rivalry games than the others. Bottom line, more time is invested preparing for "circled" games.
The rivalry game is the number one game on every football schedule and the Iron Bowl is the number one rivalry in college football. This year you can enjoy the Iron Bowl in Bryant-Denny Stadium or by watching on ESPN, 6:45P, Sat, Nov 29. Before we are ready to throw out the stats and start brining the Thanksgiving turkey, we'll take weekly looks at the Alabama Auburn Game 2014.
How the Defenses Look
Alabama is No. 1 in Total Defense in the SEC, giving up 275.2 ypg on average. Compared to Auburn's 9th place giving up 386.3 ypg.
Alabama is also No. 1 in the SEC in Rush Defense, allowing opponents to rush for 89.78 yards per game, compared to Auburn's 129.44 yards per game.
Tackles for Loss
Alabama is now leading Auburn in this category by a slight margin. Alabama's 6.67 TFL, compared to Auburn's 6.56 TFL. Auburn had a slight edge in this category last week, but was effectively tied. This category remains an effective tie.
Turnover Margin
Losing the turnover margin can mean losing the game.  It takes away a possession, keeps your defense on the field longer and gives the other team an additional shot at scoring. The Tide has been plagued with turnovers this season and is -2 for the year, eleventh in the SEC and 80th nationally. Auburn is fifth in the SEC in turnover margin with +5 and 31st nationally.  Any turnover in The Iron Bowl could spell disaster.
Penalties
Alabama is ranked 3rd in the SEC in penalties, with an average of 41.7 ypg. Compared to Auburn being ranked last in the SEC with an average of 68.0 yards per game. Auburn will need to have a much cleaner game than usual to compete in Bryant Denny Stadium on Nov. 29th.
…
Offenses of the Alabama Auburn Rivalry
Last week, Alabama was ahead in Total Yards per Game by 10.8 ypg. This week Auburn has lept in front by a margin of 19.6 ypg, with 506.9 ypg compared to Alabama's 487.3 ypg.
Auburn also leads in rushing with 286.44 ypg to Alabama's 206.11 ypg. Alabama leads in passing with 281.2 ypg to Auburn's 220.4 ypg.
Auburn has extended their lead in point production from last week. Auburn is scoring 38.7 ppg to Alabama's 34.7 ppg.
Red Zone Offense
In the Alabama Auburn rivalry game both offenses are going to be tough to stop inside the red zone. Auburn's Offense dominates in Red Zone scoring 90.24% of the time they were in the Red Zone.  Alabama scores on 83.78% of their trips inside the Red Zone.  Auburn has a decided edge in the Iron Bowl meter in this category
Third Down Conversions
The Alabama Auburn rivalry game 2014 might be full of third down conversions.  Both ranked high nationally, Auburn number two and Alabama three.  The third down conversion percentage for Auburn and Alabama is close with Alabama converting 52.94% of their 3rd downs and Auburn converting 55.00%. Edge Auburn.
How They "Stack Up?"
Of the eleven stats considered, the two teams are tied in one category, Alabama wins four categories and Auburn wins six categories.  Could this Iron Bowl possibly eclipse the drama of last years? The statistics certainly point to an Alabama Auburn Rivalry Game of two strong SEC West teams.
When Crimson and Orange color starts to appear in the trees it means one thing in Alabama, the Iron Bowl is coming soon.  Auburn was gigged by the Texas A&M Aggies, 41 – 38, giving the Tigers their second loss, a team that Alabama beat 59 – 0.  Alabama needed over time to beat LSU 20 – 13, a team that took a trouncing from Auburn a month prior, 41 – 7.  Go figure!  With a solo loss to Ole Miss, Alabama still has everything in front of them to play for: SEC Title and National Title. Auburn would need the mother of all miracles to sneak into either game. However, Auburn still holds the power to derail The Crimson Tide on their march to Title Town. Some years, that has to do, and heck, it's pretty good; it's a rivalry game.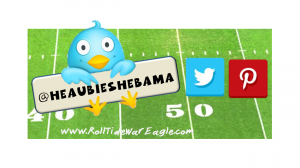 Follow the Alabama Auburn Rivalry Game 2014 and the college football playoff and get updates in your e-mail by subscribing to our newsletter.  It's free!
If you enjoyed this article, tell a friend, follow us on Twitter and Pinterest and leave your comment.  Your feedback is awesome!
Take a minute to share this story with your friends via e-mail and to your Facebook Friends and Twitter Followers.  Thanks Y'all!