Alabama Auburn 2014 Fantasy Iron Bowl
Will The Score Be Close?
Like no other rivalry game in college football, The Iron Bowl captures the attention of a national audience.  Why?  Many reasons, not the least of which is that for the last five years the winner of the Iron Bowl played in the BCS National Championship game.  Once again the Nation's eyes are locked onto the SEC West, the toughest division in the best conference in college football to see if Number One Alabama will advance to the SEC Championship game and on to the first ever, four-team playoff, or not.  The question on every football fan's mind, Alabama Auburn 2014, which team wins?
Since the inaugural Iron Bowl in 1893, the game was decided by five points or less in fifteen meetings.  Most clad in orange and blue or crimson and white will remember the most recent two games decided by the closest margin and many will even be able to tell you the special monikers associated with those games.
Those two epic Iron Bowls were played in back-to-back years.  In 2009, Alabama's 26 – 21 victory, "The Drive," was named for a 79-yard game-winning drive ending in a 4-yard touchdown pass from Alabama quarterback, Greg McElroy to Roy Upchurch.  The following year Auburn's Iron Bowl come back, ending in the score, 28 – 27, was called the "Cam-Back," because No. 2 Auburn overcame a 24–0 deficit when the Cam Newton led Tigers outscored Alabama 28-3 over the remainder of the game, ending with a touchdown pass to the late Philip Lutzenkirchen.  It was the biggest deficit overcome in Iron Bowl history.
Each of these two blockbuster games were won by the visiting team.
Each of these two teams produced a Heisman Trophy winner, Mark Ingram and Cam Newton.
Each of these two teams went on to win both the SEC and National Championships.
Will Alabama Auburn 2014 be a moniker-worthy game?
Who will win Alabama Auburn 2014?
When you are a fan of Alabama or Auburn football, you do not need a "fantasy" team.  Following two of the best teams in college football, being a Tide or Tiger fan is fantasy enough.  So let's try to predict the Alabama Auburn 2014 game playing Fantasy Iron Bowl.
The Rules of Fantasy Iron Bowl
Pretend that Alabama and Auburn have already played each other ten times.
Stay with me here, Alabama Auburn 2014 played five of the same teams and all are in the SEC West.  The five games in common are Arkansas, Ole Miss, LSU, Texas A&M and Mississippi State.  If you pretend that each game was actually two games, your team's offense against the other team's defense is one game and your team's defense against the opponent's offense is another game.  See? Five opponents is actually ten games.
Ten Fantasy Iron Bowl Matchups
Yellow marks Auburn wins and lavender illustrates the Tide wins.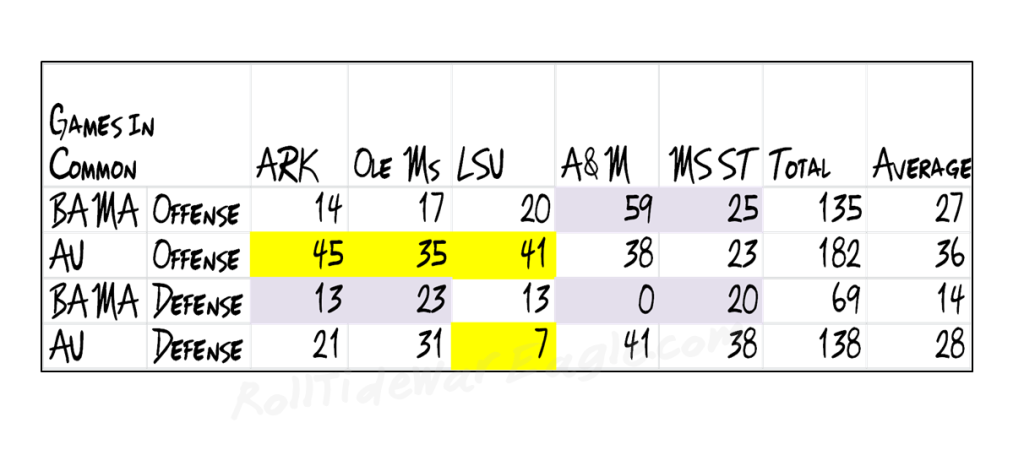 Bama 6 Auburn 4, But Wait!
Against these common opponents separating offense and defense, Alabama beat Auburn six times, four with defense and two with offense.  Auburn beat Alabama four times, three on offense and one on defense.  The delta between Alabama and Auburn defensively in the LSU game was six points and offensively in the Mississippi State Game was two points.  If you throw out those two lowest deltas, Auburn won three, all on offense and Alabama won four on defense and one on offense.
In total points, Auburn beat Alabama 182 to 135.  In total points given up, Alabama beat Auburn with a stingy 69 points given by Alabama and 138 given by Auburn.
In this pretend matchup consider only the average points allowed and scored per game found in the last column on the chart.  Alabama scored 27 and Auburn allowed it, no problem, since Auburn's defense gave up 28.  In our own fantasy Iron Bowl, all Auburn has to do is score 28 points to win the game.  Can they do it?  Auburn scored 36, so sure.
But wait, Alabama only gives up 14 points, so how can Auburn score 28?  Hold up your pencil and raise your eyebrow, because it's a Lee Corso "no-so-fast-my-friend" moment.  The highest score Alabama's defense allowed across the games in common was 23 in the Ole Miss game.
So the question is will Auburn's offense, that scored 36 points on average across these five games in common be able to score 28 to win the game against an Alabama team that only allowed 14?
Even if Auburn did not score 28 points in the Iron Bowl, they could still win the game.  How?  While Alabama did have an average of 27 points per game over these 5 games in common, they only actually scored over 25 points once and that was against Texas A&M.  If Auburn holds Alabama to 25 points, then they only need 26 to win, which is three points more than the highest scoring team, Ole Miss, which scored 23 on the Tide.
Three Points?
Will Alabama Auburn 2014 be Won or Lost by a Field Goal?
We could be headed to another epic Iron Bowl and what else would you expect from the best rivalry in all of college football history.
…
Follow the Alabama Auburn 2014 and the college football playoff and get updates in your e-mail by subscribing to our newsletter.  It's free! If you enjoyed this article, tell a friend, follow us on Twitter and Pinterest and leave your comment.  Your feedback is awesome! Take a minute to share this story with your friends via e-mail and to your Facebook Friends and Twitter Followers.  Thanks Y'all!