Iron Bowl 2014 Tide to Playoff or Tiger Spoiler
In a pre Iron Bowl 2014 press conference, Alabama head football Coach Nick Saban addressed the atmosphere of this rivalry.
"I really can't compare this game to anything else. The energy level is so different."
The winner of the past five Iron Bowl games went on to play for the BCS National Championship.  Playing for a national championship is not the ultimate goal in college football.  The ultimate goal is winning it.  In 2013 Auburn played for the title and came away empty leaving a Rose Bowl Stadium in Pasadena, California full of tomahawk chopping celebrating Seminoles and a crystal football with Jameis Winston's lip prints all over it.
The seven years prior, the SEC played in seven BCS National Championship games and came away with seven National Championships.  The SEC took a big hit last year when Auburn lost to Florida State.  For football fans across the other conferences, the reign of terror by the Southeastern Conference was finally over.  Celebration took place throughout the Big 12, Big Ten, Pac-12 and of course the ACC, and a national chorus of "ding dong the witch is dead, the SEC is not what it used to be."
With the death to the BCS and the dawn of the first time in history four-team college football playoff, Florida State, ranked in the top four by the inaugural 12-member College Football Playoff Selection Committee, is poised to get another shot at the National Championship.  But this year, they may face a different team from the state of Alabama.  They may have beat up on Auburn last year, but can they beat The Tide?  You could say that Alabama may have a chance to complete the unfinished business of its "Little Brother," Auburn.  You might say that if you're not an Auburn fan.  Which team is in a position to stop Alabama from getting their chance for another championship?  Auburn, of course.
Once again, the path to greatness in college football runs through the Iron Bowl.
Do you think the Auburn Tigers want to let the in-state rival and "Big Brother" Alabama Crimson Tide ride into Arlington, TX, offload the bus at Jerry-world and finish the job that they left undone?  You would not have to spend much time in Alabama to know how important this rivalry is.  You may even be able to feel the tension between Tide and Tigers this week just driving through the State on I-20.  If you have spent any time in Alabama, you know, that Auburn will do everything within their power to prevent the Tide from accomplishing something they themselves could not do – beat the Noles.
What's at stake in Iron Bowl 2014 – Everything.
Of course you're thinking, this is a different year and all three teams in our football triangle are different teams, Alabama, Auburn and FSU.  Of course you're right, but that is not at all how this will be viewed in Alabama.
Will Alabama get a shot at the first ever playoff or can Auburn stop them?
How Many Points Will Auburn Score in Iron Bowl 2014?
When considering only the five teams that both Alabama and Auburn played, which are Arkansas, LSU, Texas A&M, Ole Miss and Mississippi State:
Auburn scores 99% more points than their opponents allowed on average.
Bama allows 13.8 on average, so Auburn would score 27.5.
Or does it go more like this?
Alabama allows -58% of opponents average scoring.
Auburn scores 36.4 on average, so they would score 15.3.
So Does Auburn score 28 or 15?
How Many Points Will Alabama Score in Iron Bowl 2014?
Alabama scores 33% more than their opponents' average points allowed.
Auburn Allows 27.6, so Alabama would score 36.8.
Auburn allows -20% of their opponent's average scoring.
Bama scores 27 on average, so they would score 21.6.
So Does Alabama score 37 or 22?
Football 101:  Will Alabama Outscore Auburn or Will Auburn Outscore Alabama?
There was a lot of jabber this year about "good Bo" and "bad Bo," speaking of Bo Wallace the very talented quarterback for Ole Miss.  So we decided to take a look at Good Bama / Bad Bama and Good Auburn / Bad Auburn.
…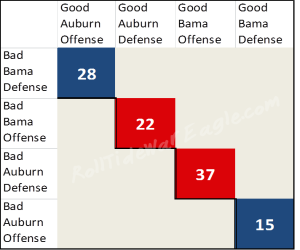 …
Based on the stats for the five games in common, here are some Possible Score Scenarios
…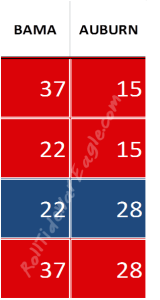 …
Could Auburn Win Iron Bowl 2014?
The only chance Auburn has of winning Iron Bowl 2014 is if they come in perfect and Alabama gives them a lot of help.  That's not what we've seen so far this year from these two teams.  In the five games in common, Auburn racked up 417 yards in penalties to Alabama's 172.  Auburn turned the ball over ten times in these five games compared to Alabama's five.
Alabama's Special Teams is ranked ahead of Auburn's Special Teams in allowing Punt Returns and Kickoff Returns.  Auburn is No. 1 in the SEC in Punt Returns, but ranked below Alabama in Kick off Returns.
Not saying the chances are less than Paul Finebaum getting more offers from women than Tim Tebo, but there's probably less than 1 in 4 chance of Auburn beating Alabama this year.  Not great odds for the Tigers, but being the underdog, the "Little Brother," the underappreciated, under-ranked is a not too unfamiliar role for the Tigers.  Alabama has everything on the line once again this year and every tool they need to take it.  Auburn can play loose and enjoy a chance to be the spoiler.  They say that anything is possible in a rivalry game like this, but possible is not probable for Auburn this year.  It's possible for Finebaum to out bench press Tebo, but… you get the picture.  Bama wins big.
…
Credit:  The stats used for the calculations found in this Iron Bowl 2014 story came from cfbstats and ESPN.
Follow the Iron Bowl 2014 and the college football playoff and get updates in your e-mail by subscribing to our newsletter.  It's free! Like this article?  Please tell a friend, follow us on Twitter and Pinterest and leave your comment.  Your feedback is awesome! Take a minute to share this story with your friends via e-mail and to your Facebook Friends and Twitter Followers.  Thanks Y'all!