Steve Spurrier Jr
Is Steve Spurrier Jr the Unofficial Coach in Waiting for the South Carolina Gamecocks? Is it ethical for him to be on HBC football coaching staff?
"Steve Spurrier Jr Accusations of Nepotism"
It's starting to look like Steve Spurrier Jr is the Coach in waiting for the South Carolina Gamecocks Football Team, but is it ethical that he's even on the staff?
Every time the oldest football coach in the SEC faces reporters they appear to be duty-bound to ask Coach Spurrier when he will retire.  One might think that the media is losing its creativity, but the reason they keep asking is because everyone wants to know what the answer is this week.  He's said a couple years and recently told a recruit six, but while Spurrier defends his age, shows pictures of himself working out in the weight room and holds oddly short-noticed press conferences to try to convince recruits that anybody who tells you he's leaving the Gamecocks is "the enemy," he may be signaling something else.
Spurriers years remaining in Garnet in Black are not measured in the number of times he can bench press the weights, but better gauged by the increased public relations campaign of his son, Gamecocks co-offensive coordinator Steve Spurrier Jr.
When your father is the head football coach for the Florida Gators and you need a job, you've got more than one cleat in the door.  Coach Spurrier hired Steve Spurrier Jr when he was head coach of the Florida Gators, took him to the NFL and now at South Carolina.  Other than three years working for Bob Stoops at the Oklahoma Sooners and one year at Arizona under Mike Stoops when Spurrier Sr was out of a job, Steve Spurrier Jr's entire career has been working for dear old dad.
It's understandable that a man would want to pass along his family business to his son, but this coaching job at a public university is not Coach Spurrier's to give.  In fact, it's unethical and probably illegal that Steve Spurrier Jr and his brother Scott are on their dad's coaching staff to begin with.  There's an ugly word for it, nepotism.
Nepotism Defined: The boss is hiring family members or friends.
In an interview on JOX radio in Birmingham, AL, Mark Ingram, the new athletic director at UAB was asked by a caller how a high school football coach breaks into the college ranks.  Ingram's reply was that you have to know the right people and that working as a graduate assistant, while the pay is poor, is considered almost a "rite of passage."
Steve Spurrier was in the perfect position to help his sons' careers, but he made the same mistake many parents make, he did too much.  He should have introduced his sons to the right people and not hired them.  Oh, he probably wanted them near him and he wants to see his grandchildren.  Of course, that's what retirement is for.  Maybe they have some 'cats in the cradle' type family dynamic going on and he's making up for all his time away when they were little, who knows?
One thing we do know, hiring them was nepotism.  Public officials in South Carolina are prohibited from nepotism.  In fact, South Carolina is one of the states with the more strict anti-nepotism laws.  Recently South Carolina Governor Nikki Haley was highly scrutinized for giving her daughter a job in the government.
If you're not sure if a College Football Coach at a Public University is a Public Official, ask Congressman Jim Moran who recently acknowledged coaches as public employees in his facebook posting regarding his ethics investigation last November.
"We have a system now where in 40 states, the highest paid public employee is the state university's head football or basketball coach and yet only 20 schools in the Football Bowl Subdivision have athletic departments with revenue exceeding expenses."
Do Carolina fans agree with this succession of the head coaching job for Gamecocks football being passed down from father to son like royalty passing down the throne of England?
Other than being illegal, what's the big deal?  Why is nepotism unethical?
Hiring a family member eliminates other applicants and is therefore unlawful discrimination.
By hiring his sons, Spurrier is not recruiting the best possible coaches to his program and his sons are not being recruited by other coaches for their growth, development and advancement in their careers.
According to Oklahoma head football coach, Bob Stoops, Steve Spurrier Jr is the HBC's best friend.  When the Stoops wanted to hire Spurrier Jr away from Gators, he felt like he was taking a son away from his Dad.  Stoops recalled. "It was like, I don't know what to do here? Should I give him this opportunity, or is this the wrong thing to do?"
Spurrier could be viewed by the other coaches as giving favoritism to his sons and not trust their boss to make a fair assessment of how their work compares to his son's work.  He may appear to be an insecure leader who wants to hire his sons to have coaches on staff to support his decisions.  Having his two sons on staff may have even kept other, maybe better assistant coaches away from South Carolina.
What is it like for Steve Spurrier Jr among his peers on the South Carolina coaching staff?  Is he more highly scrutinized by them?  The other coaches could be leery of forming a relationship with their boss's son for fear their personal opinions could be reported back to the head coach.  Coaches could view Steve Spurrier Jr as a spy and be skittish about having an open relationship.  Such resentments on a coaching staff would ultimately lead to lower productivity, poorer results and higher turnover.
Is this what USC is paying Steve Spurrier $4MIL, tied for the seventh highest coaching salary in the country, to do?
One thing is for sure.  Steve Spurrier Jr has enjoyed job security that not many coaches ever have.  He is the only coach that was on the original coaching staff when the head coach started at South Carolina nine seasons ago.  "I'm doing well," Steve Spurrier Jr said. "I've got a bunch of kids. I've got a great job making a lot of money. Anytime you hear somebody talk about security in coaching football, it doesn't happen very often. I know eventually something's got to happen and I'll deal with it when it comes."
Somebody should tell Steve Spurrier Jr that personal and professional growth and advancement come from being dissatisfied and uncomfortable.
When Steve Spurrier leaves South Carolina both of his sons are out of a job and Steve Spurrier Jr's wife is expecting their seventh child this October.
When asked in an interview if his sons Steve and Scott will have to find work when he retires, Spurrier replied, "Yeah, they are sort of looking. Scottie is sort of looking right now, had a few little feelers that didn't work out, but he knows that. They are ready to get on their own.  "Steve Jr. is a very valuable coach, recruiting coordinator and so forth, all these guys do a lot."
Now Spurrier is in a pickle.  How can he preserve his legacy, retire on top with a winning season, facilitate his namesake to replace him in the head coaching job at South Carolina, while not scaring off recruits who fear he is leaving.  WHEW! Good luck with that one.
Coach Spurrier promotes his son's career, but he stops short of saying Steve Spurrier Jr should be his successor.  "I would have no input whatsoever on who follows me here at South Carolina," Spurrier said.
On the athletic departments web sites Steve Spurrier Jr's bio reads like it was written by a publicist.  It opens with National Championships, accolades and pizzazz then states that "He was promoted to co-offensive coordinator in the spring of 2012."  Contrast that to Scott Elliot, South Carolina's other co-offensive coordinator, who got the same job at the same time, but his bio opens with no accomplishments and reads, "He was given the title of co-offensive coordinator in 2012."
Shawn Elliott joined Steve Spurrier's staff in 2010.  He was thought to be the 'coach in waiting' at South Carolina and according to TheBigSpur, Elliot turned down positions at Appalachian State, Florida, and the Pittsburgh Steelers.  Now he splits a job with his boss's son and doesn't seem to be on the same media campaign trail with Steve Spurrier Senior that Steve Spurrier Jr is on.  Somebody should break it to this guy that he's a beard for Spurrier's nepotism.
…
If you like to closely follow  SEC football plus the college football playoff, you will love this ~ Get updates in your e-mail by subscribing to the newsletter.   It's free! If you enjoyed this article, tell a friend, follow us on Twitter and Pinterest and leave your comment.  Your feedback is awesome! Take a minute to share this story with your friends via e-mail and to your Facebook Friends and Twitter Followers.  Thanks Y'all!
lagniappe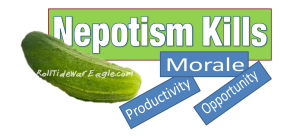 A quick look around the world of nepotism in college football:
Oh sure, South Carolina isn't the only public institution bending ethics and laws for football coaches, Frank Beamer, head coach at Virginia Tech also hired his son Shane, Dennis Erickson is the head coach at Arizona State, coaches with his son Bryce, Kansas State Coach Bill Snyder hired his son Sean.  Bob Stoops head coach at Oklahoma hired his brother Mike, who left for a head coaching job at Arizona and hired their other brother Daryl, just kidding, Mark.  Now Mike is back with Bob as a Sooner and Mark is coaching in the SEC in his second season at Kentucky.  Working for fam turned nearly disastrous for Jay Paterno who worked for his dad, Joe Paterno, since 1955 until his father was fired in disgrace at Penn State.  Paul Petrino lost his job too when his brother, Bobby Petrino, he was working for at Arkansas, was fired after Bobby hired his mistress to the coaching staff.  Paul was just hired as head coach and is an Idaho Vandals, hmmmm…  and Bobby Petrino the head coach at Louisville.