Alabama Auburn Iron Bowl 2015 Crazy Early Predictions
Iron Bowl Jenga
Even though we're still wearing shorts, watering the hydrangeas and going to the beach, southern college football is here and after one game, we are ready to start comparing Alabama and Auburn for the season-long lead-up to the Iron Bowl.  Is it ever too early to see how Alabama Auburn Iron Bowl 2015 stacks up?  No, no it is not.  Especially when both teams face a formidable opponent in their 2015 football season debut.  There's data to be studied, debated and most of all, compared.
The study of Alabama Auburn Iron Bowl 2015 begins with two big out-of-conference games, Auburn Vs Louisville and Alabama Vs Wisconsin.  From the eyeball test there are some easy takeaways.  Alabama's Defense is suffocating; Auburn's Defense is most improved; Alabama's quarterback questions were answered; and Auburn's quarterback, Jeremy Johnson did not live up to the pre-season hype.  One might say, Alabama looked like a champion team and Auburn did not.  But, dig into the numbers and it would be foolish to say Auburn is not in the hunt.
Oddly Similar First Game Results
Both teams won their games.
Both offenses scored over 30 points.
Both held opponents to 24 or fewer points.
Both defenses grabbed a turnover, Auburn got two.
Both teams had descent punting games, Alabama averaged 37 yards per punt and Auburn 47.
Both Teams had way too many penalty yards, Alabama 120 and Auburn 80. (u-g-l-y, you ain't got no alibi, that's ugly.)
What Separated The Alabama and Auburn Game One Performances?
Alabama Quarterbacks Jake Coker and Cooper Bateman did not turn the ball over.  Perfect game management.
Auburn Quarterback Jeremy Johnson threw three interceptions.
Auburn's Offensive Line did a perfect job protecting Jeremy Johnson and took zero sacks for loss, while Alabama suffered three at the hands of the Badgers of Wisconsin.
Field Goals were no problem for Auburn Sophomore Place Kicker, Daniel Carlson who made a career-long 56-yard field goal, was 100% on points after and all six of his kickoffs were touchbacks.  Carlson was awarded the SEC's Special Teams Player of the Week.  Alabama's kicker couldn't hit the broad side of a barn.  Adam Griffith was 0 for 2 kicking field goals on Saturday, missing from 44 and 39 yards. Griffith is now 12 for 21 dating back through last season, which could cost a game or two since Alabama has the toughest schedule in the country this year.
Biggest Impact on Alabama Auburn Iron Bowl 2015
But what was the biggest differentiation between the two games?  Why are Alabama fans all starry-eyed and thinking 16th National Championship here we come meanwhile Auburn fans are scratching their heads wondering what all the pre-season hype was about.  Why aren't Auburn fans celebrating a 31 – 24 victory over a well-prepared Louisville team in a tough neutral field season opener with a starting quarterback who has never played a complete game and a Muschamp led defense that showed amazing improvement?
How it ended.  That's why.
While Alabama wrapped up their 35 – 17 victory over Wisconsin by substituting many "twos" in the fourth quarter, Auburn was fighting a Bobby Petrino coached Louisville team staging a major comeback ditching their starter and bringing in a true freshman quarterback Lamar Jackson, that perhaps even Petrino did not know could scramble out of the pocket like Johnny Manziel and Marcus Marriota wrapped into one guy.  So the ending was, well, scary, for those in Orange and Blue and comfortable for the Crimson and White clad fans.  No one would say that The Tide is not in the hunt, again.  But anyone would be a fool to say that Auburn is not right there with them.
Of course, the biggest game in college football separates these two teams faster than you can say pass the leftover turkey.  Two days after Thanks Giving, all will be watching, Alabama Auburn Iron Bowl 2015, November 28, Jordan-Hare.  If it were played this week our crazy early prediction is Alabama wins by two touchdowns.  But it isn't played this week.
…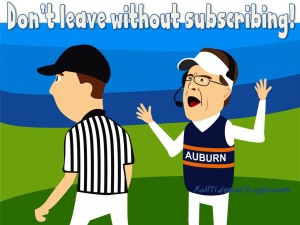 If you enjoyed our Alabama Auburn Iron Bowl 2015 Crazy Early Prediction, please subscribe to our stories and we will e-mail them to you hot off the presses.  Thank you for being a reader and comment if you like.  We'd love to hear from you.
From our House Divided to You, Roll Tide and War Eagle!