Auburn Football Doom Gloom Replaced The Boom
If Auburn football fans knew walking into Jordan-Hare Stadium that Auburn's struggling defense would hold a former Heisman hopeful Dak Prescott led Bulldog offense to 17 points, they would walk into the game expecting to win it.  After all, in the 55 games played by the SEC so far this 2015 college football season, only three games were lost by the team with a defense that held its opponent to 17 points or less.
But that's not how this one ended.
And if Auburn football fans knew that Tigers' backup quarterback Sean White, in his first snap as a college football player would end a long first possession, move-the-chains, seemingly touchdown destined drive with an interception; you might think here we go again he's going to throw more picks than the fellow he replaced, Jeremy Johnson who with six interceptions had more of those than touchdowns in the first three games this season.
And that didn't happen either.
It's true, Auburn's defense, which supplied only rotten second halves this season allowing 24 points by Louisville, 10 by JSU, and 21 by LSU held Mississippi State to a tiny 3 points in the second half of the game last Saturday.
And although Auburn has defeated Mississippi State in the past with just one field goal, which was enough to outscore the Bulldogs' two-point safety in 2008, this year scoring only three field goals was not going to win the game.
It's true Sean White did take his first snap ever as a college QB.  It's true he moved the chains for twelve plays and five first downs and he did throw an interception on third down at the Mississippi State five yard line, which resulted in Dak Prescott's first of two passes for touchdowns for Mississippi State.  But after that drive Sean White provided excellent ball coverage and did not throw another interception during that game.
But in addition to his first college snap, White was baptized in the river of SEC west defense with his first four juicy sacks at the hands of the Bully defense who also held Auburn to no 20 yard runs and shut them out of the end zone completely.
In his post-game press conference, Auburn football Coach Malzahn said:
"The defense gave the offense the ball in the second half numerous times where we needed to respond and didn't, or couldn't."
Both Mississippi State and Auburn Football teams came into their game with a single SEC West loss to the same opponent, LSU.  Auburn lost to LSU the prior week, 45 – 21 in Baton Rouge and Mississippi State lost to them in game two, 21 – 19 at home.
In his post-game press conference, Mississippi State head football coach, Dan Mullen, said, "We're back where we want to be, we're back in the race."
The race he refers to is of course, winning the SEC West, the SEC Championship in the GA Dome in Atlanta, and the College Football Playoff National Championship.
With a 1 – 1 SEC record and 3 – 1 overall, Mississippi State previously unranked, jumped up to number 21 in the AP College Football Ranking.
In other conferences there are winnable games on the schedule no matter how far a team has fallen, but in the SEC playing top teams every week, a loss or two and a team is quickly submerged.
With two losses, where does the Auburn football team go from here?
In his post-game press conference, Auburn coach Gus Malzahn did not mention being in or out of "the race."  Of quarterback Sean White's interception, Malzahn said, "He responded well.  He's capable of being a good QB."
"You can see we got a bunch of young guys, we got a bunch of inexperienced guys and we got a chance to grow."
Now in post-loss-funk mode, it's time for fans to pick up their now tattered copy of the football schedule, the one where circled are the wins that were expected pre-season, attempting to get an updated account of predictions for wins and losses now that four games were played.  Looking down the remaining SEC schedule for Auburn may feel like facing down the barrel of a shotgun.  Auburn has three rugged road games, at Kentucky, at Arkansas, and at Texas A&M; and three hostile home visits from Ole Miss, Georgia and Alabama.  Assuming they win their non-conference games, which two of those SEC matchups can Auburn win to make them bowl eligible?
Is it time for Auburn to re-adjust the goals?
…
Lagniappe
Here's Auburn Football Coach Gus Malzahn in his post-game presser after the Mississippi State game, September 26, 2015 from Aldotcom.

Photo Credit Julie Bennett
…
If you like our Auburn football stories and others from around the SEC, please subscribe to our blog.  You will be the first to receive our story in your e-mail in box.  Please take a minute to share this with your friends.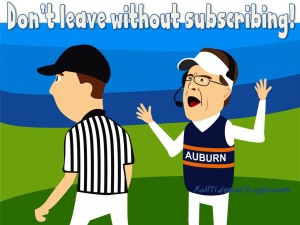 From our "House United" to you, Roll Tide! and War Eagle!  Thank you!