Alabama vs Clemson 2016 Predicted to Battle Through the Fourth Quarter
It's crazily unpredictable when Alabama will lose a football game.  Did you hear, Ole Miss did it, not once, but two years in a row.  Ohio State did it too in the College Football Playoff last year.  Nick Saban losing a football game is not as indecipherable an event as Big Foot walking up to your campfire, but it's rare, only twelve in eight seasons.  While Clemson players whine about the Alabama brand, the fact remains, the Tide normally rolls over its opponents in National Championship challenges.  How could Alabama vs Clemson 2016 be any different?
Alabama vs Clemson 2016 in the National Championship may be the closest National Championship game in Nick Saban's career at Alabama.  Maybe that's not saying much since the other three were decided by two touchdowns or more.  This game pits a Nick Saban who spins losses into fuel against Clemson head coach, Dabo Swinney, who spins wins, well… into more wins.  But the game isn't about how coaches dance, their backgrounds or their sayings, it's really about the men on the field, the football players.
When it comes to nationally ranked players, it's well known, Bama is full to the brim, but to predict the outcome of this game, better look closely at the Clemson Tigers.  Clemson is going to push Alabama to their limit and into the fourth quarter.
Why?
Because Clemson is the most complete team that Alabama has faced in any National Championship game in recent years.
Nick Saban's staff ushers into The Capstone number one recruiting classes year, after year, after year, but Clemson, a bit under the radar, recruited classes in the top fifteen and as high as eighth the past four years.  Clemson is undefeated, the ACC Champions and won the CFB Playoff against Oklahoma, 37 – 17, because they have nationally ranked play-makers in every aspect of the game.
When Alabama faced Notre Dame January 7, 2013, at Sun Life Stadium in Miami Gardens, Florida, the Fighting Irish looked more like Swiss cheese compared to the 2015 Clemson team.  They were badly out-manned in the rushing game and had no nationally ranked receivers.  Alabama junior running back Eddie Lacy rushed for 140 Yards and 1 touchdown and T.J. Yeldon for 108 and 1 touchdown.  The only rushing touchdown by Notre Dame was Everett Golson the quarterback.  Notre Dame had 32 Yards rushing total.  In the two titles prior to that, Texas and LSU both had no nationally ranked rushers.  Alabama's first Heisman Trophy winner, sophomore running back Mark Ingram, rushed for 116 yards beating Texas and ending The Tide's seventeen year drought of National Championship titles.
There's no Swiss cheese coming out of Death Valley.
Clemson has nationally ranked rushers, and one of them is the quarterback.
The eighteenth ranked rusher, Clemson sophomore Wayne Gallman gains 5.51 yards per carry.  Sophomore quarterback Deshaun Watson gains 5.52 yards per attempt.  They are both grasping almost the same yardage on their attempts as Alabama Heisman Trophy Winner, junior, Derrick Henry who gets 5.74 yards per attempt.  Together they also almost match Henry's scoring; he has 25 touchdowns this year and they have 24 combined.
And Wide Receivers?
The struggling Irish also faced Alabama with no nationally ranked wide receivers.  Alabama Freshman WR Amari Cooper caught for 102 yards and 2 touchdowns.  This year, Alabama freshman Calvin Ridley already broke Cooper's record for a freshman at Alabama.
Clemson had those too.
Sophomore Artavis Scott is a nationally ranked wide receiver for Clemson who averaged 62 yards per game not too far behind Alabama's Calvin Ridley who averaged 73 his freshman year.
But Defense wins Championships and the game is won in the trenches and this year will be no different.
You guessed it, Clemson matches toe-to-toe with Alabama when it comes to nationally ranked linemen and linebackers.  The only defense that may come close was LSU in 2011, which held Alabama below its season average score.
Alabama's amazing linemen are legendary.  Did you know Tiger Tacklers rank high nationally too?
When it comes to sackers and tacklers for losses, Alabama vs Clemson 2016 showcases three nationally ranked yardage depleters on each National Championship contending team.
Number one in the country for tackles for loss, Clemson junior defensive lineman Shaq Lawson made 23 for 111 yards.  He's also ranked for sacks, and may be spending time with Alabama quarterback Jake Coker, if Lawson is healthy enough to play by Monday.  His teammates junior defensive lineman Kevin Dodd and senior linebacker B.J.Goodson will attempt to pull up the ranks either way.
Ranked sixth in sacks, Alabama junior defensive lineman Jonathan Allen got to the quarterback for 12 sacks and 88 yards this year.  He joins forces with two Alabama juniors Tim Williams and Ryan Anderson both nationally ranked.
In the National Championship game against Texas, the Longhorns were short on nationally ranked playmakers for sacks and tackles for loss, Alabama had three nationally ranked, and TX had one.
When it comes to quarterback play in Alabama vs Clemson 2016, both teams are nationally ranked, but Clemson Deshaun Watson is highly ranked just below No. 7 Chad Kelly who led Ole Miss to Alabama's only loss this year and last.  Jake Coker finished strong passing for seven touchdowns in the last four games.
Alabama's toughest National Championship game was Texas due in part to senior wide receiver Jordan Shipley who was ranked sixth nationally and made the game close with 10 catches for 122 yards and 2 touchdowns.  Clemson is closest to Texas on points scored and points allow compared to Alabama's past three title game challengers.  Alabama is giving up more points per game this year than any of the other three years they competed for National Championships.
What does Alabama do that Clemson doesn't do?
Alabama senior defensive back Cyrus Jones is ranked sixteenth nationally for punt returns with 37 yards per game and 4 touchdowns.  Alabama holds its opponents to nearly a touchdown less than Clemson.
How does Alabama do it?
Defusing explosive players.
In the Alabama vs Clemson 2016 title game, both teams have junior Defensive Backs with five interceptions on the season.  Alabama's Eddie Jackson brought two back for touchdowns and Clemson's Cordrea Tankersley had one.  Ask Notre Dame Coach Brian Kelly if that worked for him in the 2012 National Championship.  Senior Linebacker, Manti Te'o, ranked second in the nation for interceptions did not catch any against Alabama, but Crimson Tide, Clinton-Dix did.
Alabama 42 Notre Dame 14.
Brian Kelly had this to say after the game,
"We had a hard time getting off the field, and a lot of that had to do with Alabama. They were able to run the ball effectively, and then obviously when you do that, it opens up so much of the play-action game."

"They're back-to-back national champs. So that's what it looks like. Measure yourself against that, and I think it was pretty clear across the board what we have to do."
Mack Brown came to town with two nationally ranked interception monsters.  Earl Thomas, second in the country with high expectations for the 2009 National Championship game in Pasadena came up dry.  Alabama quarterback Greg McElroy did not throw any interceptions.  Senior defensive back Javier Arenas snatched two of Alabama's four interceptions caught in that game.
Alabama 37 Texas 21
Les Miles took on the Tide with the sixth ranked interception getter who also came up blank in the 2011 National Championship game in The Superdome in New Orleans.
Alabama 21 – LSU 0
The waters are uncharted for the Clemson Tigers who have not competed for a National Championship since winning its first and only in 1981.  A little different for Nick Saban's team going for number sixteen, but these are unchartered waters for Nick Saban's team playing for the National Championship with only eleven days to prepare.  Will that make a difference from 2009 when there were 33, 2011 with 45 and 37 days to prepare for Notre Dame?
When the gavel fell on the final ranking of the College Football Playoff Selection Committee, December 6, 2015, there were three ranked teams that Alabama beat, LSU 30 – 16, Tennessee 19 – 14 and Florida in the SEC Championship 29 – 15.  There were also three ranked teams that Clemson beat, Notre Dame 24 – 22, Florida State 23 – 13, and North Carolina in the ACC Championship 45 – 37.  Both teams beat conference champions from other power five conferences, Clemson took down the Big 12 Oklahoma Sooners, 37 – 17.  Alabama shut out Michigan State from the Big Ten conference 38 – 0.
What does Clemson do better than Alabama?
Clemson scores an average of four more points per game than Alabama.  Last checked, it only takes one to win.
Alabama vs Clemson 2016 could be the closest National Championship game of Saban's Crimson career.
When the Crimson Tide meets The Clemson Tide.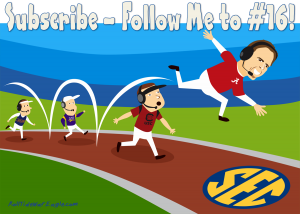 …
If you enjoyed Alabama vs Clemson 2016 please share it with your friends.  You may also subscribe to our articles to receive them in your e-mail.  We appreciate our readers who share our passion for college football and are thrilled when our stories are shared on Twitter and Facebook.  Thank you!