Football Rules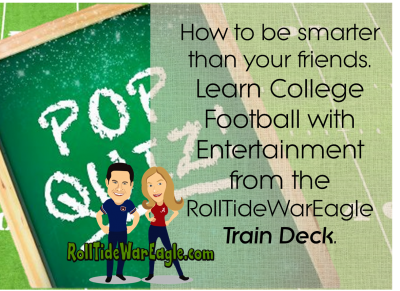 RollTideWarEagle.com is providing new college football rules tutorials through a course series we call "Train Deck."
Self-Directed Tutorial to learn College Football Rules (hover scroll arrow to learn at your own pace. Click on upper right arrow and Tweet it to your followers.)
Here's an example of a punt return for a touch down:
Want to be smarter than your friends, co-workers and even your spouse when it comes to the rules of the grid iron?
You've come to the right place.  We will cover a new college football rule or two each week.  In the first series we will cover the kicking games.  They are misunderstood and a lot of time is spent talking about it in every football game broadcast.  View our Train Decks and take the pop quizzes – you'll be the expert of your tailgate or living room.  Let's get started.  Scroll through at your own pace.  Take the fun pop quizzes too. Let us know what you think; we value your input.
Tweet us out your results and let us know how you did.  Share it with your friends who need a little help with the rules of NCAA football.  You can follow us on Twitter @heaubieshebama  Thanks Y'all!